Commercial Building Plans
Table of Contents
Every aspect of the construction industry can be broken down into residential work (building homes) and commercial work (building schools, stores, offices medical facilities, etc.). As commercial construction becomes more advanced, the need for properly prepared building plans becomes more important.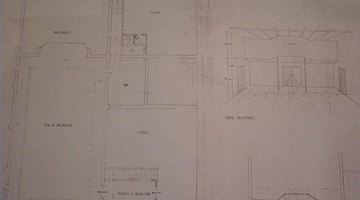 Prepared by architects and engineers, these plans create a picture of a finished project and provide a blueprint for the building process from start to finish.
How Building Plans Are Created
Building plans start when developers or investors decide they'd like to build new projects. They approach an architect, who works with the developer to understand the basic type of building that will be required. The plans are then sent to mechanical, electrical and structural engineers, who work as a team to design a safe and functional building. The architect acts as coordinator among these consultants, and also as a liason between the owner and the various design team members. Once the plans are complete, they are presented to the developer or owner for review and approval.
Features
Commercial building plans can vary from a single sketch to hundreds of pages of detail depending on the size of the job. Generally, they contain a title page and index, which lists all the documents involved in the project. Next there will be a section of architectural drawings, which include floor plans, partition schedules, door and window locations and finish selections. The next section will contain the mechanical and electrical plans, which include HVAC, plumbing, lighting and wiring diagrams. Most sets of drawings are accompanied by a book of specifications, which details materials and methods to be used when building the project.
Function
The function of building plans is simple. They are indicate exactly what the owner or developer wants the finished project to entail, including appearance, operation and composition. With written plans, it is easier to avoid miscommunication or misunderstanding between the architect, owner and builder. The plans make it easy for the contractor to construct the building as specified, making it more likely that the client will be satisfied.
Uses
Building plans are used for many other things beyond their function of letting contractors know what to build. In most jurisdictions, plans must be submitted before permits will be issued, and they are often required by planning boards before permission to build is granted. They are also useful in helping owners develop estimates and secure bids on their projects so that budgets can be developed.
Types
There are many types of building plans, and each refers to a different stage of the project. The first type is known as the "Schematic Design." This is the initial set of plans produced by the architect to provide a basic overview of the project. "Design Development" plans are then created, which include input from various engineers and consultants. This type of plan is usually nearly 50 percent complete. The project is further refined during the 90 or 95 pecent Construction Documents phase. This gives the owner or developer one final chance to modify the plans before the 100 percent set is produced.
Writer Bio
Emily Beach works in the commercial construction industry in Maryland. She received her LEED accreditation from the U.S. Green Building Council in 2008 and is in the process of working towards an Architectural Hardware Consultant certification from the Door and Hardware Institute. She received a bachelor's degree in economics and management from Goucher College in Towson, Maryland.
Photo Credits
More Articles