The Best Finish for Shower Walls
When installing a shower, many choices are available to the homeowner. One of the more important yet confusing choices facing homeowners is the selection of a shower wall finish. There are a multitude of options available that can fit any decor or price range.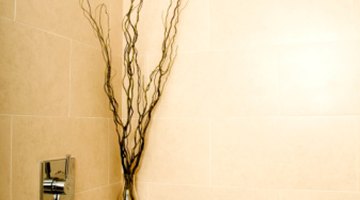 These options vary greatly in price, colors and textures available, ease of installation, and the amount of effort spent maintaining them.
Panels
Shower panels are often made out of fiberglass. You can purchase and install them in large solid pieces or smaller individual panels. These panels are typically lightweight, and easy to clean and maintain. Due to their light weight, it's easy for homeowners to install these shower panels. Some models come with features such as shelves for soap and other items and a bar to hang wash cloths on built into the paneling. Shower panels are available in a wide variety of color options. These panels typically cost between 200 and 600 dollars, with select panels costing up to $800, as of 2011. With correct installation and maintenance, shower panels can last between 20 and 30 years.
Tiles
Shower tiles come in a variety of colors and textures and are made of many different materials. Some of the most popular tiles used for shower walls include porcelain, ceramic and marble. The cost of the entire project varies greatly upon which type of material your choice of tile is made of. Tiles typically cost between $1-$5 per square foot. If you choose to tile your shower walls yourself, any mistakes you make can be more costly to fix than the price of hiring a professional. You will need to replace the grout used to hold the tiles to the shower walls needs every six to 10 years.
Slate
Slate is available in two forms: gauged and ungauged, with gauged being the more expensive of the two. Ungauged slate often varies in thickness and may have varying thicknesses within the same piece. For this reason, you must cut ungauged slate with a wet saw to ensure that it is even. Gauged is more uniform and thus requires less cutting. Slate often ranges between $3 and $5 per square foot, making it one of the more expensive choices when finishing shower walls. You must also seal slate with a sealant before use. Although the ungauged variety costs less up front, it often costs more to cut and install than gauged slate.
Glass
Glass shower stalls are a great choice to finish any shower wall. The walls behind the stall should be tiled or painted with a paint specifically formulated for use in bathrooms. Shower glass is available in transparent, translucent and opaque, and is made of tempered safety glass. This type of shower wall is typically the easiest to install and maintain, although you must clean the glass often to prevent film build up. Glass is one of the more expensive shower options, as it typically ranges anywhere from $500 to $2000 to complete the project.
References
Writer Bio
Heather McDowell has been a freelance writer since 2009. Her instructional articles appear online, specializing in topics about cooking, animals and painting. Her major goal is to become a pastry chef and she is planning to pursue a degree in culinary arts at Rend Lake College.
Photo Credits
Jupiterimages/Photos.com/Getty Images
Jupiterimages/Photos.com/Getty Images
More Articles