How to Remove Odors From Wood Furniture
Antique furniture pieces or furniture bought at second-hand stores and garage sales often have musty, stale odors. These foul smells can be caused by multiple culprits, including dirt, mold, dust and mildew.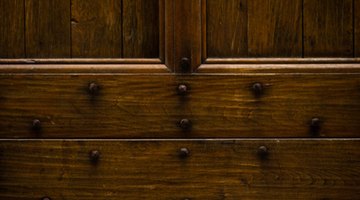 Luckily, if you have a piece of wooden furniture that has this type of smell, you can fix the problem by using the proper cleaning techniques and tools. By getting rid of the obnoxious smell, you can make the piece of furniture a nice addition to your home or an attractive item to sell.
Things You Will Need
Water
Bleach
Rags
Fabric softener sheets
Containers
Vinegar
Baking soda
Remove any drawers from the furniture.

Open any cabinets.

Mix 9 parts water to 1 part bleach in a container or sink.

Wipe the furniture down on the inside and outside surfaces with the bleach and water mixture.

Pour about a cup of vinegar or baking soda into glass or plastic containers.

Place the containers inside the drawers and cabinets of the furniture piece and let them stay there overnight.

Remove the containers and add dryer sheets inside drawers and cabinets for a continuing fresh scent.
References
"How the Queen Cleans Everything;" Linda Cobb; 2003
Writer Bio
Charlotte Johnson is a musician, teacher and writer with a master's degree in education. She has contributed to a variety of websites, specializing in health, education, the arts, home and garden, animals and parenting.
Photo Credits
Jupiterimages/Photos.com/Getty Images
Jupiterimages/Photos.com/Getty Images
More Articles