How to Clean Sawdust From Wood Before Varnish
The process of preparing wood for varnish may involve numerous steps, including sanding the surfaces to make them exceedingly smooth. Because the wood surface must be free of all sawdust particles to achieve a flawless finish, the final task is cleaning sawdust from wood prior to applying varnish. Use a keen eye for dust and take your time to ensure that you remove as much sawdust as possible.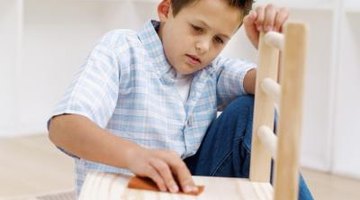 Step 1
Moisten the terrycloth towel and wring it out so it remains merely damp. Wipe every surface of the wood with the damp towel to remove the sawdust. Change towels to use a clean towel when you notice sawdust covering the towel.
Step 2
Use the toothbrush to loosen sawdust from nooks and crannies. As you loosen the sawdust, vacuum the loosened sawdust with the nozzle or brush attachment to clean it from the wood thoroughly.
Step 3
Wipe the wood again with a moist terrycloth towel. After wiping the wood thoroughly, examine the towel to see how much dust you removed. If you notice the white towel showing signs of sawdust, change towels and continue wiping until you no longer notice sawdust covering the fabric.
Step 4
Allow the wood to dry completely.
Step 5
Wipe the surface of the wood lightly but thoroughly with the tack cloth. The surface of the tack cloth has a special formulation that will remove microscopic sawdust from the wood as a final preparation before applying the varnish.
References
Tips
Proceed directly from sanding to cleaning to finishing to prevent humidity and oils from contaminating the freshly sanded wood.
Warnings
Avoid rubbing too hard with the tack cloth because resins contained in the tack cloth may transfer to the wood.
Writer Bio
Kathryn Hatter is a veteran home-school educator, as well as an accomplished gardener, quilter, crocheter, cook, decorator and digital graphics creator. As a regular contributor to Natural News, many of Hatter's Internet publications focus on natural health and parenting. Hatter has also had publication on home improvement websites such as Redbeacon.
Photo Credits
Stockbyte/Stockbyte/Getty Images
More Articles