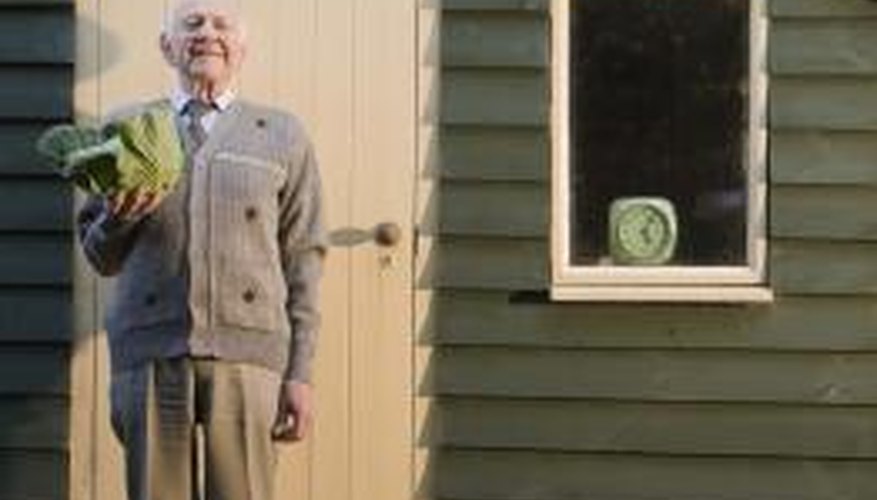 Beyond the initial considerations of insulation, electrical wiring, plumbing and heating, you're designing a tiny, efficient space to suit a pared-down lifestyle. Adding a loft over the kitchen and bathroom provides a bedroom where you can sleep on a real mattress instead of a fold-out bed. Research and incorporate features common to studio apartments and travel trailers to build a luxurious hideaway or a spartan "in-law" unit according to your personal aesthetics.
Step 1
Measure the height, width and depth of the shed. Transfer the measurements to graph paper, using one square per foot. Design a floor plan for your microhouse.
Step 2
Install the framing for the interior walls of the kitchen, bathroom and loft. Lay out the rooms first with painter's tape on the floor to ensure that your appliances, shower and toilet not only fit in the space, but that you have room to move around them.
Step 3
Install windows and doors in the shed according to your plan. Use double-pane windows and an insulated steel door if possible to provide both security and energy savings.
Step 4
Insulate the ceiling and the walls with rigid foam insulation. Cut each board to size with a utility knife or electric carving knife. Run a bead of construction glue along the edges and in a large X-shape in the middle of each panel before pressing into place.
Step 5
Hire an electrician to wire the shed for electricity and a plumber to install your sink and bathroom. While doing it yourself appears frugal, if you experience an electrical fire or flood it can cost thousands of dollars to repair your microhouse and replace your ruined belongings.
Step 6
Install the drywall or paneling. Carefully measure and cut around the doors, windows and outlets. Trim out the doors and windows.
Step 7
Prime and paint the interior using a high-quality primer and two coats of latex paint.
Step 8
Install the flooring. Hardwood floors are durable and nearly as easy to install as laminate flooring. Carpet is soft and helps insulate floors on cold days.
Step 9
Install the kitchen cabinets and appliances. Apartment- or RV-size appliances are available in either electric-powered or propane gas-powered models.
Step 10
Add a ladder to the loft, seating, lighting, bookcases, curtains and accessories according to your plan.
Things You Will Need

Measuring tape
Graph paper
Painter's tape
2-by-4-inch boards
Saw
Drill with screwdriver bit
Wood screws
Double-pane windows
Steel exterior door
Rigid foam insulation
Utility knife or electric carving knife
Construction glue
Drywall
Primer
Paintbrush
Roller
Latex paint
Shower stall
Toilet
Sinks, bathroom and kitchen
Kitchen cabinets
Refrigerator
Stove or hot plate
Hardwood flooring
Tips
Downsize your possessions before you begin remodeling your shed. Decide what is important to you, such as books or antiques, and what you can sell or give away.

Use multipurpose furniture, such as a sofa with storage underneath.

Look at RVs and small trailers for furniture and storage solutions.

Install a window in the loft that opens and is large enough to exit in case of an emergency.

Use pocket doors or curtains instead of standard doors to save space.

Add a composting toilet and solar panels if you want to reduce your carbon footprint.

Add a covered porch for additional outdoor living space.