Three-Dimensional Stencil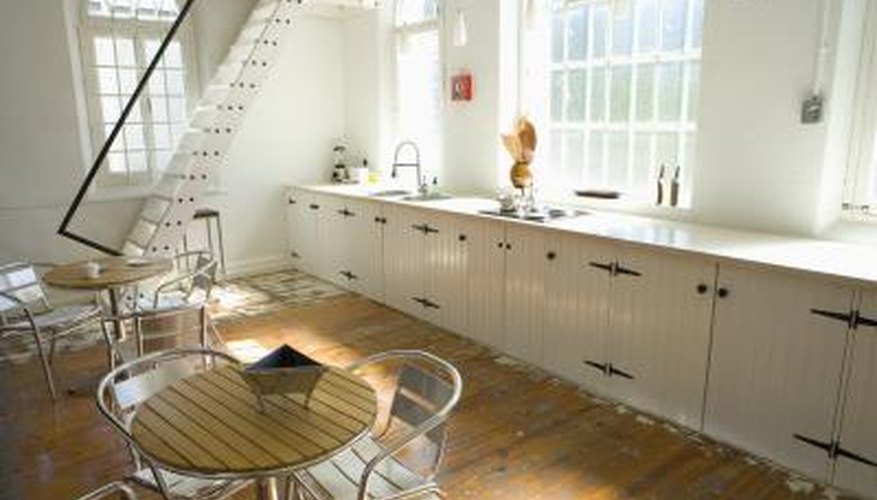 A three-dimensional stenciled backsplash can feature anything you desire such as classic geometric shapes or lines of poetry. Copper pennies used to a tile a backsplash add warmth to rustic or industrial architecture. Put your imagination to work, and in one afternoon you can make a custom kitchen backsplash that doesn't cost a fortune.
Step 1
Scuff the wall with fine-grit sandpaper. Wipe off the dust with a rag.
Step 2
Tape the stencil to the wall at the far left or right of the backsplash area.
Step 3
Scoop up drywall joint compound on a putty knife. Spread a 1/4-inch thick layer over the stencil. Loosen the tape and lift off the stencil.
Step 4
Move the stencil to the next open space and repeat the process. Work around the backsplash area until the design is complete, then let the compound dry overnight.
Step 5
Sand the design lightly with ultra-fine sandpaper to smooth the rough edges. Vacuum the dust with a hose attachment.
Step 6
Fill a small paint pan with decorative paint. Roll the paint roller through the paint. Apply at least two coats to the whole backsplash area, letting the coats dry in between.
Step 7
Pour quarter-size amounts of contrasting paint on a plate. Paint the raised design with a small paintbrush to accentuate the dimension.
Authentic Penny Tiles
Step 1
Sand the wall using a power sander with coarse-grit sandpaper. Vacuum the sanding dust with a hose attachment.
Step 2
Measure the length and height of the backsplash area. Measure and cut fine wire mesh or chicken wire to those measurements with wire cutters.
Step 3
Staple the mesh to the wall securely. Add as many staples as necessary to stabilize the edges and field of mesh.
Step 4
Mix thinset mortar in a bucket according to the manufacturer's directions.
Step 5
Scoop up mortar on the edge of a trowel. Spread a 1/4-inch layer over a 1-foot square space of wire. Use a thicker layer of mortar, if necessary, to fully bury the mesh.
Step 6
Press pennies into the mortar as if they were tiles, leaving a small fraction of the edges raised above the mortar bed. Butt the sides of the pennies together, or space them apart as you desire. Add more mortar and continue tiling across the backsplash.
Step 7
Wipe down the pennies using a sponge dampened with plain water, and let it dry for approximately one hour.
Step 8
Buff the pennies with a rag to remove the haze.
Things You Will Need

Sandpaper, ultra-fine and fine or coarse
Rags
Plastic stencil
Painter's tape
Drywall joint compound
3-inch putty knife
Vacuum cleaner with hose
Small paint pan
Decorative paint
Small foam paint roller
Plate
Fine-bristle artist's paintbrush
Measuring tape
Fine wire mesh or chicken wire
Staple gun
Thinset mortar
Bucket
Flat or straight trowel
Pennies
Soft sponge