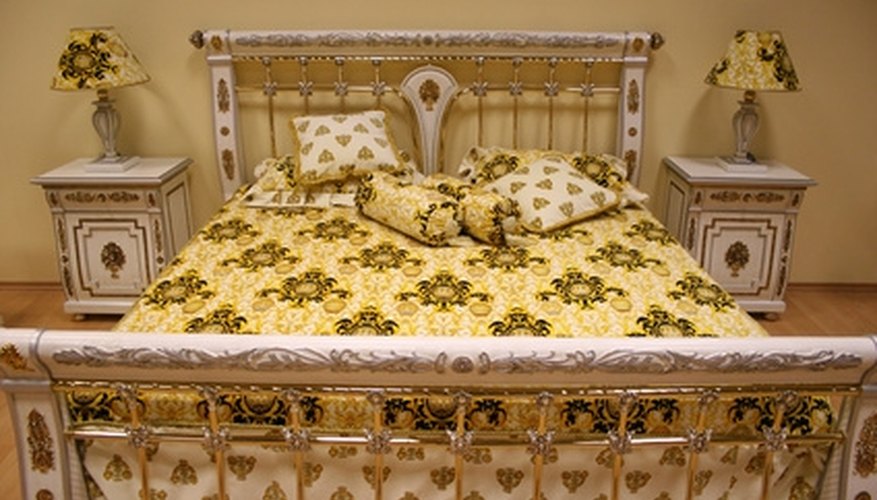 Brass beds are a very popular choice for bedroom decor, and can be quite old and grungy or just in need of a color change. Pick up an old, cheap headboard at a flea market or dig one out of your attic and transform it from a beast to a beauty in no time flat.
Disassemble the headboard from the bed rails and footboard, if necessary, with a screwdriver and pliers. Keep the headboard in an upright position, leaning against a clean cardboard box or a wall.
Wipe down the headboard with a clean, dry rag to remove any surface dirt. Wash with soap and water if you need to remove heavier dirt. Let it dry.
Lightly sand the metal with sandpaper to remove any glossy finish.
Place drop cloths underneath the work area.
Stir a can of oil-based paint with the paint stirrer for smooth color consistency. Add a few drops of paint thinner to thin its consistency, if desired.
Apply paint to the front of the headboard with the paintbrush. Paint from the top of the bed down, using long, even strokes and keeping a minimal amount of paint on the brush. Let the paint dry for several hours.
Turn the headboard around and paint the back of the headboard, using the same procedure you did to paint the front. Let dry completely.
Apply a second coat of paint, if desired, to both sides of the headboard and let dry.
Reassemble the bed when the paint is completely dry.
Things You Will Need

Metal headboard
Pliers or screwdriver
Clean rags
Soap and water
Light grit sandpaper
Drop cloths
Paint thinner
Oil-based paint
Paint stirrer
Paintbrush
Tip
Test the painted surface prior to re-coating by pressing your finger on the painted frame for about three seconds. If you leave a fingerprint, allow for more time to dry.