Installation Instructions for a Kenmore Ultra Wash II Dishwasher
A dishwasher, such as a Kenmore, is an appliance that must be connected to a water supply and drain to work properly. Kenmore has many models of dishwashers, such as the Ultra II, you can install in your kitchen. Carefully measure and prepare the location where you are placing the appliance, which will offset many installation difficulties.
Water Connections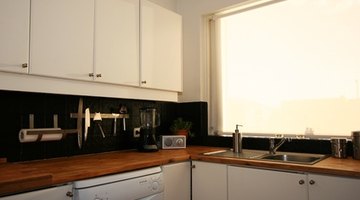 Slide the nut over the end of the copper water pipe and then slide on the ferrule.

Insert the copper water pipe into the 90-degree elbow on the back of the dishwasher. The 90-degree elbow is the water inlet valve. Push the water pipe in as far as you can.

Push the ferrule and nut forward and then tighten the nut, by hand, onto the threads on the 90-degree elbow. Secure the nut tightly to the water inlet valve with the adjustable wrench.
Drain Connection
Pull the drain house through the cabinet to reach the back of the dishwasher.

Remove the drain hose connector cap from the dishwasher and then place the drain hose clamp on the connector.

Insert the drain hose into the connector and push it in as far as you can.

Open the drain hose clamp with the pliers and slide it over the drain hose. Release the drain hose clamp to secure the hose to the connector.
References
Resources
Warnings
Check the water line for leaks before the dishwasher is secured under the counter.
Writer Bio
Cameron Easey has over 15 years customer service experience, with eight of those years in the insurance industry. He has earned various designations from organizations like the Insurance Institute of America and LOMA. Easey earned his Bachelor of Arts degree in political science and history from Western Michigan University.
Photo Credits
More Articles