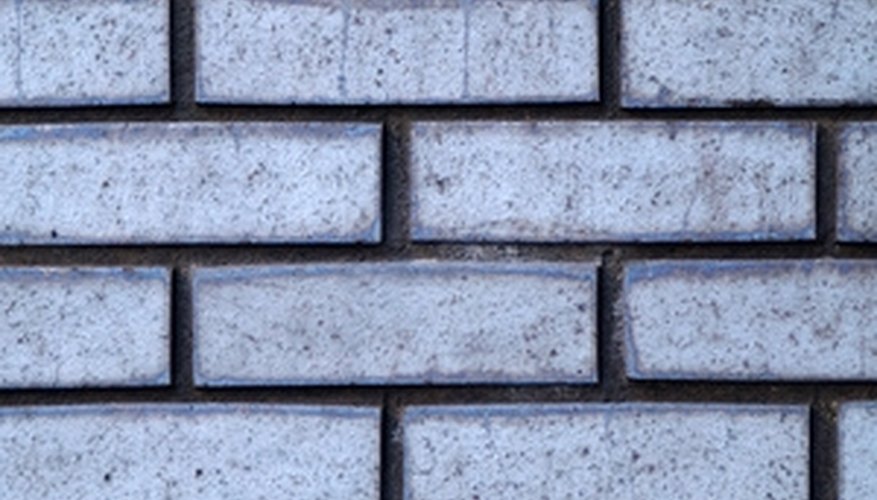 It is incredibly versatile and easy to handle. Although made to look like real brick, faux brick is paintable so you can paint it to match any decor. You can put faux brick over walls that are already in place, or you can put it up straight over bare wall studs.
Pick up your first faux brick panel and place it against the wall where you wish to begin. Use a level to level it. Even if you start at the ceiling, the first panel needs to be leveled, since rooms and ceilings can settle and not be accurately straight. Draw a pencil line around any corner, and this line will be used for placement when you put the panel back up.
Place your panel upside down on a bench or table and add adhesive to the the back. Using your caulk gun and an adhesive caulk tube, squeeze the adhesive out into wide squiggly lines about 8 inches apart.
Pick up the panel and press it tightly against the wall. Line up the corner with the mark you made with your carpenter's pencil, then level it out once again using your level. Once in place, press the entire panel tightly against the wall so the adhesive will grip.
Drive self-threading screws into each corner. Attachment flaps will extend outward from the faux brick panels and will allow you to cover these screws once they are in place. Turn these screws in a clockwise direction with your screw gun until they are tight.
Take another panel and turn it upside down on your table or bench. Repeat the process of adding adhesive to the back side.
Place this next panel up against the wall and join it in place with the previously mounted panel. All panels will interconnect with the previous panel because they have ready-made slots that join together. Use your mallet to tap the new panel in place, smooth it down so the adhesive makes positive contact, then screw down the corners to secure it to the wall.
Repeat these steps until the entire wall has been covered. Trimming the ends can be done with a utility knife so corners and edges can be cut to fit perfectly.
Caulk all the seams with color-matching caulk. This will give the appearance of grout or brick mortar. It will secure the panels together and give a realistic finishing look to your faux brick.
Things You Will Need

Caulk gun
Level
Bench or table
Carpenter's pencil
Adhesive caulk tube
Screw gun
Self-threading screws
Color matching caulk
Mallet
Utility knife
Tip
When putting faux brick directly over wall studs, add adhesive to the actual studs so you will get positive contact between panel and adhesive.