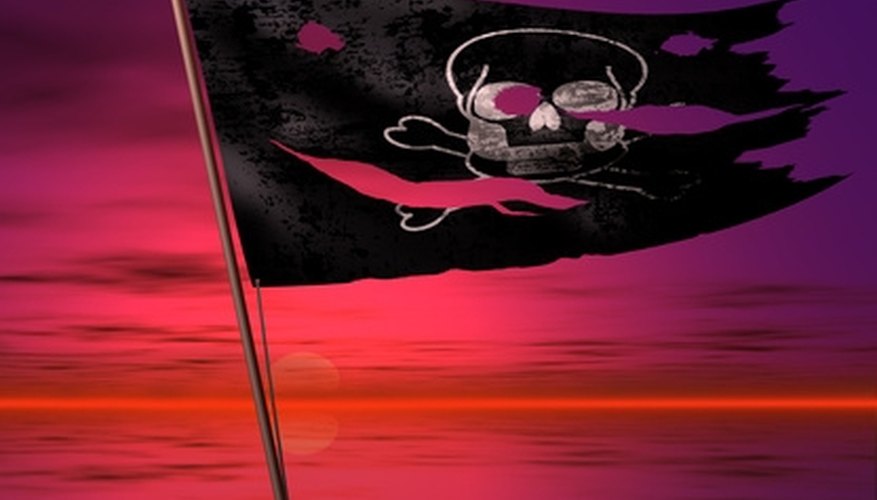 You can make a pirate bed yourself at home, saving costs over purchasing a similar item at a child's furniture store. Using accessories like pirate flags and sea nets, give the bed a nautical and whimsical feeling that is easy to put together with a few materials and tools.
Pick up a plywood board that is four feet wide and three feet tall. Most building supply stores can cut the board to size at no extra cost.
Lay the board flat on the floor so the 4 foot side is at the bottom. Draw a ship shape onto it with a pencil, giving it curved sides and a flat top and bottom.
Cut out the shape of the ship with a hand saw. Sand down the board with sand paper, and sand down the two two-by-four boards, removing any rough spots.
Paint the ship board and the two two-by-fours with brown paint and let dry. Apply a second coat if necessary and let dry.
Draw horizontal lines along the ship board with a black permanent marker and a yardstick, making the ship look like it's made of wooden planks.
Lay the two two-by-fours vertically on the floor, about three feet apart. Lay the ship board on top so the two-by-fours stick up over the ship about one foot, and secure the wood pieces together using a hammer and nails.
Nail the ship construction to the wall where the front of the bed should go. Nail the ship construction about one foot off of the floor, and push the twin bed flush against the ship.
Attach a sea net so it hangs from the two-by-four sticking up over the left side of the ship to the two-by-four sticking up over the right side of the ship. Hang a pirate flag from one of the two-by-fours.
Things You Will Need

Twin bed
Plywood board
Pencil
Hand saw
Sandpaper
2 boards, two- by four-inch
Paint
Paintbrush
Yardstick
Black permanent marker
Hammer
Nails
Sea net
Pirate flag
Tip
Let kids help paint and put together the ship bed for their room.