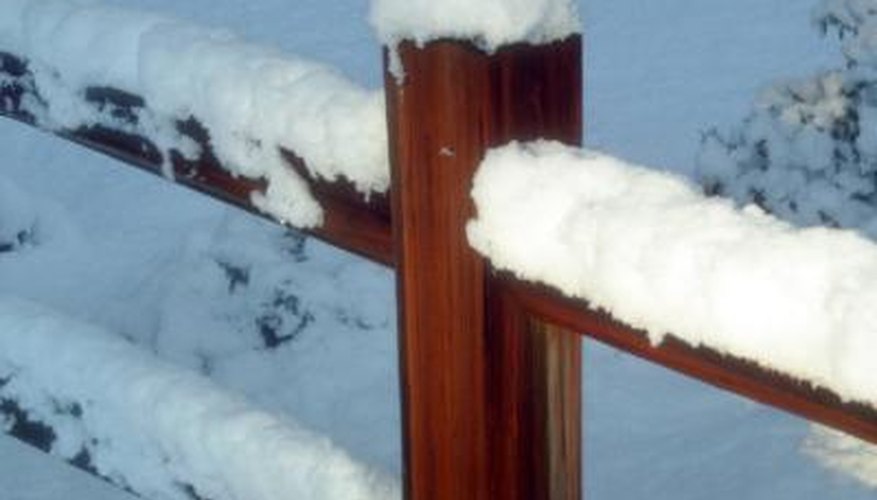 Its attractive color tones and workability also make it suitable for interior trim and furniture. When exposed to sun and moisture, the surface of redwood turns dull and gray. Removing this gray coating and returning the wood to its original color involves two different strategies, depending on whether the wood is inside or outside. After restoring the color, treating the wood with a preservative will keep it looking fresh longer.
Step 1
Clean exterior redwood with a solution of deck-cleaning detergent and water. If you have a power washer with the capability, add detergent to the washer and spray at a low pressure. The power washer will automatically mix the detergent with water as it sprays. If you don't have a power washer with this capability, spread the detergent solution liberally with a mop or sponge. Let the detergent soak into the wood, then scrub it with a scrub brush.
Step 2
Bleach the wood with a solution of 4 oz. of oxalic acid to 1 gallon of warm water if it is still discolored. You can also buy wood bleaching products that have this ingredient. Spread the bleach with a mop or sponge and scrub the wood with a scrub brush. Wash off the bleach with a garden hose.
Step 3
Wash the wood with a power washer. Hold the tip of the washer about 6 inches from the wood and spray along the grain. Skip this step if you are happy with the color of the wood after bleaching.
Step 4
Bleach discolored interior wood with the oxalic acid solution, spreading it with a sponge and scrubbing it with a scrub brush. Wash off the bleach with water and let the wood dry, then sand it with an orbital sander and 120-grit sandpaper. Sand corners and crevices by hand, moving the paper with the grain of the wood.
Step 5
Coat the redwood with a preservative. If you have washed it, let it dry first. A penetrating oil finish is a good choice for both interior and exterior redwood, but you'll get more protection on exterior redwood if the finish has waterproofing and mildew-resisting additives. Spray, roll or paint the finish.
Things You Will Need

Detergent
Power washer
Bucket
Mop
Sponge
Scrub brush
Orbital sander
120-grit sandpaper
Preservative finish