How to Refinish an Old Painted Wood Deck
A sun deck provides a useful extension to living quarters, an area for entertaining and a site to soak up the benefits of the great outdoors. Once exposure to weather and everyday wear-and-tear has taken its toll on the deck, restoration returns its intrinsic value. Refinishing a deck can be a daunting task but, with proper planning, preparation and the use of appropriate tools and the right materials, the job can be completed with minimum pain and suffering.
Preparation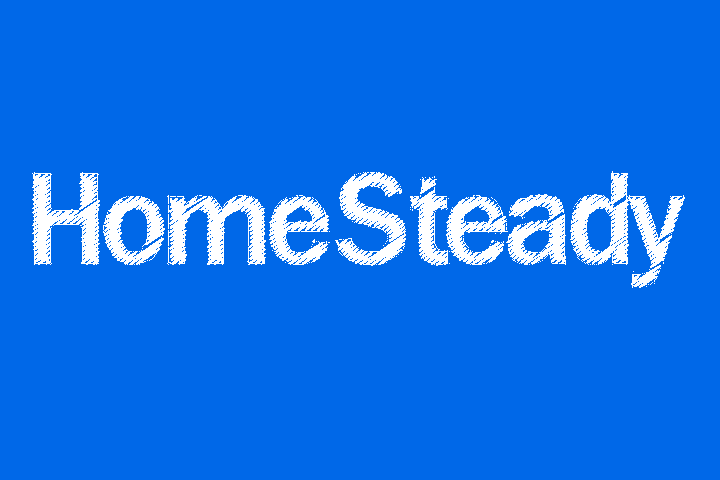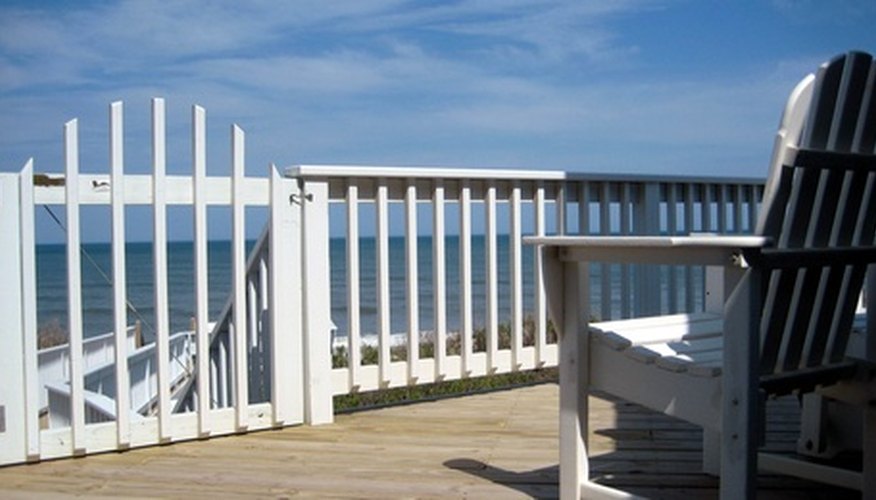 Step 1
Assess all areas of the deck to determine what repairs are necessary. Check for popped nails, mildew, mold, infestations or boards that need to be replaced, Do this to ensure you have all the equipment required to complete the job.
Step 2
Apply painter's tape to all walls or surfaces adjacent to the area to be painted. If the deck has a usable area below it, spread a drop cloth beneath the deck. Spray with water or cover any foliage close to the deck before using a stripper or cleaner to avoid damage to plants.
Step 3
Check the weather forecast. It is crucial that the wood completely dries before applying new paint or stain in order for it to cure. The paint job lasts longer if the wood is allowed to dry for at least 3 days after stripping the old paint and before applying the new covering.
Cleaning, Stripping and Sanding
Step 1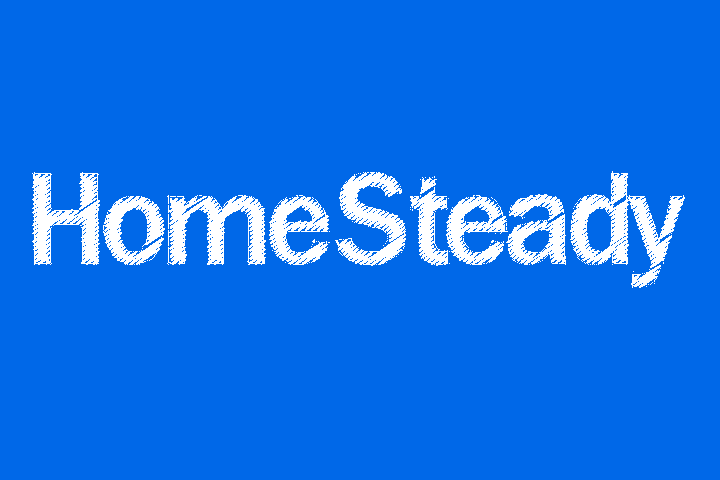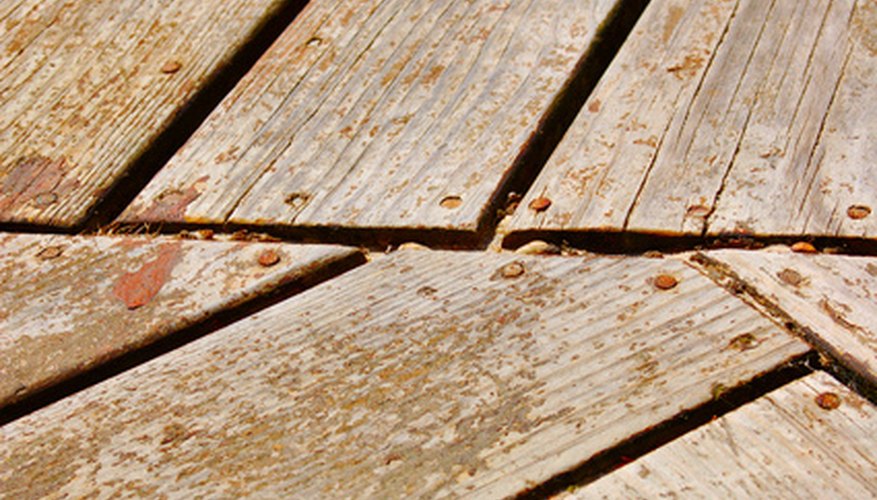 Sweep the deck surface and remove any debris from between the deck boards, which can cause wood rot if left to accumulate. Use a putty knife or a pressure washer to get all the leaves, algae and decayed material from between the boards. Ensure that all spider webs are removed from railings and spindles.
Step 2
Replace any damaged deck boards. Hammer in or replace popped nails. Remove any mold or mildew with trisodium phosphate (TSP) or a commercial cleaner applied with a stiff-bristle brush. Allow it to sit for a few minutes and wash it away. Work on a small area at a time.
Step 3
Apply a water-soluble deck stripper using a stiff bristle brush push broom. This softens the old paint and allows its removal. A second application may be necessary in less-used areas, and the power washer will speed paint removal. Care should be taken with the power washer not to gouge the wood by holding the spray too close to the wood surface. Allow the surface to dry for 3 days before sanding. Water foliage again that may have been sprayed by the stripper.
Step 4
Sand the wood surface with an orbit sander using an 80-grit disc, as power washing will have created a fuzzy surface from wood fibers that lifted from the force of the water. Sanding also removes any remaining bits of old paint.
Application
Step 1
Choose an appropriate stain or paint for your particular needs. The type of wood, whether it has been pressure-treated, the cost and quality are considerations when choosing stain or paint. Deck stains are available now can be applied to damp surfaces; however, for best results, wait until the wood has been dry for 3 days before covering it.
Step 2
Paint the edges of the deck with the new stain or paint using an appropriate paint brush. Paint all the hard-to-get areas, such as railings and spindles and recessed areas.
Step 3
Apply paint or stain to the larger areas using a lamb's wool roller. Alternatively, use a simple pump sprayer to apply the finish. Power sprayers are available for rent if the area to be covered is quite extensive. Ensure the paint or stain does not pool. Smooth any areas with a roller where this occurs.
Step 4
Allow the deck to dry for three days before replacing deck furniture and plant containers. Re-do the deck every 2 to 4 years to maintain the integrity of the wood. Cracks and splintering is reduced if it is properly refinished regularly.
Things You Will Need
Painter's tape
Drop cloth
Power washer
TSP or commercial cleaner
Chemical paint stripper
Stiff bristle brush push broom
Orbit sander
80-grit disc for sander
Stain or paint
Roller
Paint brushes