Horse Barn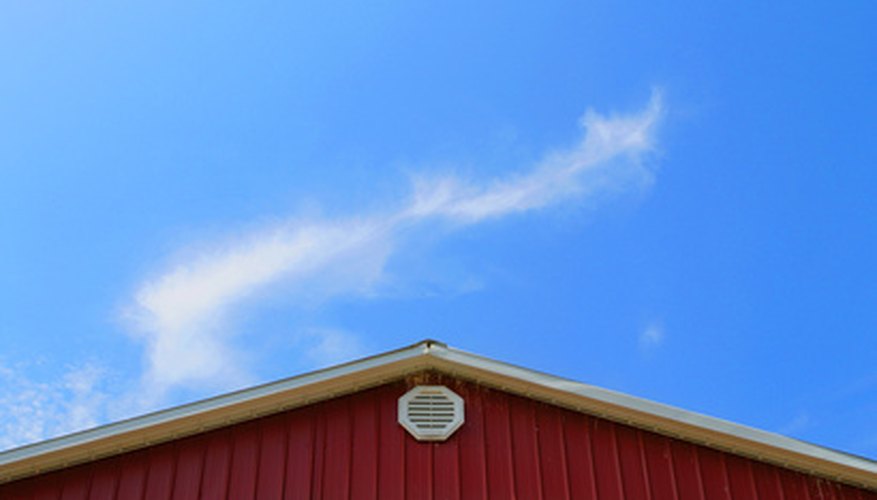 Having started out as a fence company in 1903, the transition to building using post frames was a natural step over the next half century. Since the company devoted most of its focus on providing for the needs of the agricultural community they first developed horse barns and storage buildings, but eventually spread their expertise to homes and churches. Morton Buildings are made to client specifications, so every customer may design to suit their needs.
Step 1
List all of the things that you might want to include in your barn. Figure out the maximum number of animals you may want to house and jot that down. Include in your list an area that will be large enough to ride a horse for an indoor arena or round pen. List spaces in which you want to keep equipment (tractors etc.) and feed. Add a locker room for tack, if that is needed. Add an outside overhang for a wash bay.
Step 2
Sketch out the design from an overhead view, including all of the items on your list, including all walkways and driveways. Figure out all of the dimensions that are going to be needed, allowing 4 inches thickness for each wall. Make sure that the sum will fit on your designated property. Determine the location and size needed for the doors.
Step 3
Determine where you will need electricity and plumbing and insert that into the design.
Garage/Storage Building
Step 1
List the sizes and dimensions of all of the items that you want to house in the garage.
Step 2
Open the doors of cars or trucks if they are included on your list, and measure the width of the vehicles with the doors open. Measure your toolbox with the drawers open, and add 24 inches of space in the front for you to bend down and look comfortably into the bottom drawer.
Step 3
Sketch out your ideal design. Determine where electricity and plumbing will be needed and insert that into the design.
Home
Step 1
Determine the number and sizes of each bedroom, bathroom and living rooms. Design your garage, as Morton homes usually come with one attached. Determine the size of your kitchen.
Step 2
Sketch a picture of your ideal home in overhead view, bearing in mind that Morton Buildings are more known for function than the fine details of a beautiful home.
Step 3
Indicate where the plumbing and electricity will go in your home and garage. Include a wrap-around porch if you wish, as Morton Buildings offers this option.
Things You Will Need

Tape measure
Graph paper
Pencil
Ruler
Eraser