Prepare the Mount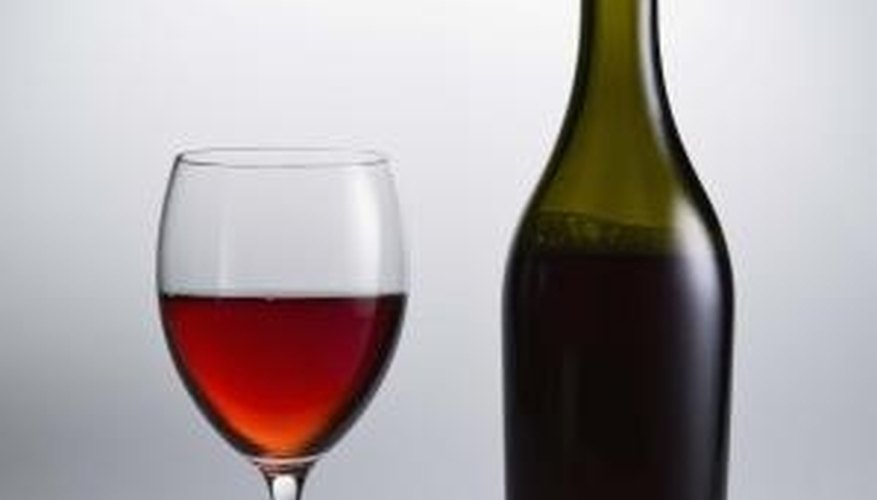 A torch will provide illumination at an outdoor party and several brands of torch fuel contain citronella, which will help keep mosquitoes away from your gathering. The bottle openings need to be a 1-in. diameter for this project, and although wine bottles are ideal, other bottles may be used as well. Choose bottles with a deep blue, green or amber color.
Assess the surrounding area where you wish to mount the Tiki torch to make certain that flames will not reach nearby objects such as flags, arbors or fence poles. Mount the plate connector in the desired location with wood screws, and screw the 3/8-inch zinc-plated rod into the connector to create an extension.
Assemble the portion of the Tiki holder that will clamp around the neck of the wine bottle. Screw one hex nut all the way to the end of the 3/8-inch zinc-plated rod, then screw the second hex nut until it is barely screwed onto the rod, yet secure.
Add the split-ring hanger onto the rod so that the rod is next to the inside of the ring. Tighten the second hex nut until it is firmly against the split-ring hanger.
Prepare the Torch
Wrap the Teflon plumber's tape around the end of the end of the copper coupling until it fits snugly into the opening of the bottle.
Push the wick into the coupling, leaving 1/4-in. to 1/2-in. sticking out at the top, and the longer length of wick protruding from below the coupling. Unscrew the split-ring hanger and position the wine bottle into the opening. Hand-tighten the split-ring hanger until it is secure, but do not over-tighten. (See References 2)
Insert the funnel in the mounted wine bottle. Pour in torch fuel until the bottle is almost full. Slide the coupling, containing the wick, into the wine bottle and push into place. Wash your hands thoroughly before proceeding to light the wick.
Set the copper cap in place to keep the wick dry when the torch is not in use.
Things You Will Need

For preparing the mount:
Two #10 by 1-in. zinc-plated wood screws
3/8-in. copper top-plate connector with a nipple-screw hole
3/8-in. diameter, 4-1/2-in. long, 16-threads zinc-plated rod
2 hex nuts (threaded for a 3/8-in.rod with 16-threads)
1-in. split-ring hanger (threaded for a 3/8-in.rod with 16-threads)
For preparing the torch:
1/2-in.-wide Teflon plumber's tape
1/2-in. by 3/8-in. copper coupling
Empty glass wine bottle or large glass beer bottle with a 1-in. neck diameter
Tiki torch wick
Funnel
Tiki torch fuel
1/2-in. copper cap