---
Adjust Your Thinking
Building a simple desk for your child to use is one of the best ways to help him or her develop a work ethic. When kids have a space of their own to do homework, read, write and use the computer, they are more likely to enjoy---and finish---these activities.

Fabricating a simple child's desk can be as easy as stacking a few milk crates on their sides and laying a piece of finished plywood across the top. Baskets can hold supplies and books in the open crates.

The important principle for a desk made for children is that its measurements must be modified so the child can sit comfortably and use the furniture without help from an adult. Desks should be 4 to 8 inches higher than a child's chair seat, which should be approximately as high as the length of the child's lower leg (between 8 and 12 inches, depending on the age of the child).

If the child will be using a computer, he or she should be able to look straight at the computer screen without tilting his or her head and use the keyboard without reaching or bending his or her arms past 90 degrees. The ergonomics of computer use are the same as those for adults.

Even though children seem to be able to do things from strange postures, they can develop eye strain or carpel tunnel syndrome just the same as their parents.
---
Stick to Tradition
The classic student's desk is a simple three-piece structure of plywood or pine. Two side pieces, 19 to 24 inches tall, support a desktop 20 to 30 inches wide and about 16 inches deep.

A third upright piece is added to support shelves or drawers. The top is attached to the uprights by attaching blocks to the bottom and attaching the "legs" A piece of plywood can be placed across the back to add stability, and a "lap drawer" or computer keyboard slide-shelf would fit in the remaining space on one side of the desk.


---
Be Creative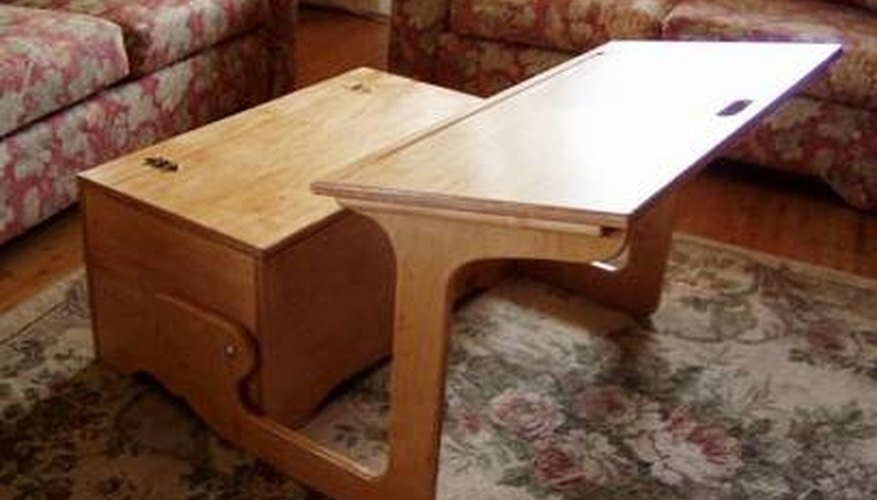 Plans for children's desks are available from companies such as U-Bild, organizations such as the Canadian Plywood Association and magazines such as "Popular Mechanics" Many plans are variations on the traditional student desk, but some are quite original. Choose from standard desks, hutches or multi-use furniture.

You can even use designs for adult desks by adjusting the pattern by lowering work and seating areas and shortening depths and widths. Whatever kind of design you choose, use the best materials you can afford because kids are hard on furniture.

Remember to round corners and edges and sand surfaces carefully before finishing.