Introduction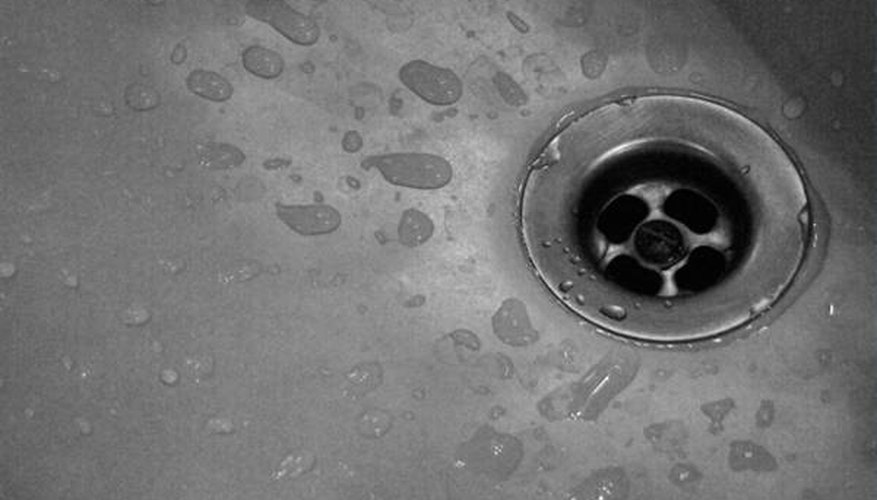 Adding a new shower pan is one way one can update a bathroom. Part of the shower pan installation is to install a new shower drain. There are different types of shower drains available. Choose the one that will work well for the type of shower pan material that you'll use. This example will show how to install a tile shower drain, which comes in either PVC (polyvinyl chloride) for PVC drainpipe or ABS (acrylonitrile butadiene styrene) for ABS drainpipe. They both come with stainless steel, polished brass or white plastic strainers.
Materials and Tools
For the shower drain installation, you need a drain unit, PVC or ABS solvent cement, pea gravel, a screwdriver, and silicone caulk or sealer. You also need a premeasured pan liner and a sharp blade. The tile shower drain unit comes with a drain base, a reversible clamping ring, collar bolts, an adjustable drain barrel and a strainer. When choosing the type of solvent cement to use, make sure it is compatible with the type of drainpipe. Use PVC solvent cement for a drainpipe made of PVC, or choose ABS cement solvent to use for an ABS drainpipe.
Installation
Mount the tile shower drain on top of the subfloor. Connect the drain base to the drainpipe by applying cement solvent inside the drain base before sliding it down the drainpipe. Apply a bead of silicone caulk around the upper surface, which will seal the underside of the pan liner and the drain base surface.
Place the clamping ringbolts that came with the drain unit and screw them onto the drain base. Lay down the pan liner on the subfloor and over the drain body. Perform this step before the silicone caulk dries. Slit the top of each ringbolt with an "X" in order for the pan liner to slide over the bolts. Then, press the pan liner firmly into place.
Cut out the pan-liner material to the dimension of the drain hole and drain base. Attach the clamping ring over the bolts and then turn the ring counter-clockwise to lock it into place. Make sure to tighten the bolts so that they are snug. Check also that the weep holes are clear of any silicone material or pan liner material. Tighten the clamping ring to the drain base.
Apply some pea gravel over the weep holes. Connect the adjustable drain barrel to the clamping ring by turning the drain barrel following the inner thread pattern of the clamping ring. Adjust the height based on the floor's height. Finally, place the strainer on top of the drain barrel.