Cute Ways to Decorate a Porta-Potty
No one loves using a portable toilet, but sometimes they are a necessary part of life. Porta-potty is one of the common names for these portable toilet systems, and they are a common fixture at outdoor weddings and parties, construction sites and camping areas. But just because you have to use a portable toilet at your event, that doesn't mean that it has to be ugly. Decorating your porta-potty can make the experience of using an outdoor toilet a little less unpleasant.
Decorating for a Wedding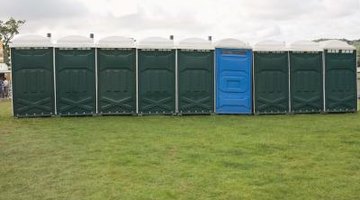 If you are using a porta-potty at your wedding, the goal of decorating should be to make the toilet look like a part of the decor, instead of an eyesore. If the toilet has a washstand area, place a small bouquet of flowers on the washstand area that matches the bridal flowers. Place scented candles and soaps in a decorative holder on the washstand as well. Hang a wreath or bouquet on the wall. Decorate an existing mirror using ribbons in the wedding colors draped around the mirror edges or hang a framed mirror. A similar swag of fabric in the wedding colors can be placed around any windows to create a curtain effect. If you want to hide the toilet, pre-cut pieces of white lattice can be placed around the exterior of the toilet to camouflage the walls. This lattice can be decorated with string lights, greenery or ribbons.
Decorating for Camping
Play up a camping toilet by decorating it in a camping theme. Place a cut-out or sticker of a crescent moon on the outside of the door to play off of the moon symbol that traditionally marks many outdoor toilets. Hang a small outdoor-themed picture or a bundle or two of pine boughs on the walls. Place a jar filled with pine cones on the washstand counter. Hang extra toilet paper rolls on a piece of rope and string it across one of the side walls.
Decorating for a Party
Depending on the theme of your party, hang a paper lantern, a strand of lights or a small, decorative light from the ceiling to create a festive atmosphere. Hang streamers or strips of fabric from the edge of the ceiling to cover the walls, ending just above the seat height.
General Decorating
Regardless of the style of decoration that you choose, nice soaps, hand towels, hand sanitizers, lotions and mirrors go a long way toward making your guests feel a little more at home. Pictures on the wall that match your theme are always an easy way to spruce up the interior. When hanging pictures, if the porta-potty doesn't have an existing feature to accommodate hanging, use tape, putty or a wire strung up to the ceiling where the ceiling and walls meet, which usually have room to wrap wire around the bolts or ventilation.
Writer Bio
Kristine Lofgren specializes in interior design, Web design, photography and gardening. She owns an interior design business in Salt Lake City. A graduate of Salt Lake Community College's interior design program, Lofgren is pursuing a Master of Arts in journalism from the University of Utah.
Photo Credits
Jupiterimages/BananaStock/Getty Images
More Articles