Room Color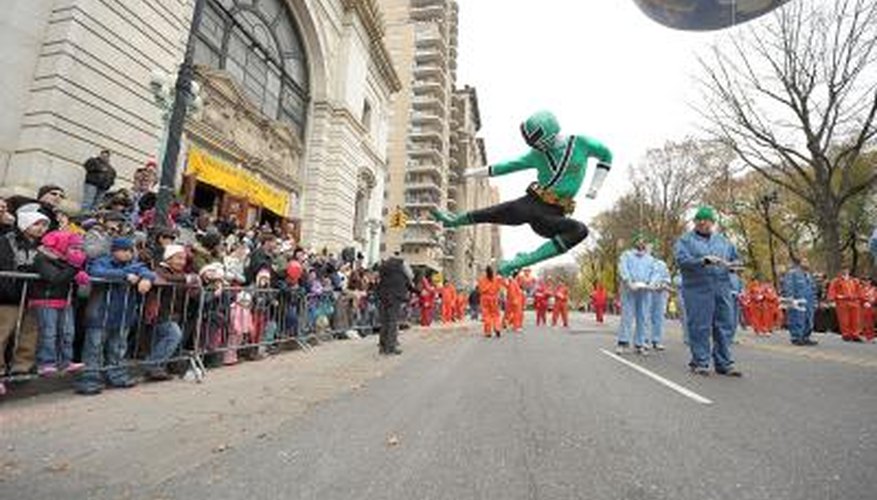 To do this, a child's room should display his interests. For many children, the Power Rangers ranks among their favorite things. Since the early 1990s, the show has wowed children with its colorful costumed crusaders, mixed martial arts and action-packed story lines. If you are looking for a way to add a bit of color and excitement into a child's room decor, look no further than a Power Ranger theme.
The five best-known Power Rangers are red, green, blue, yellow and pink. Other Power Rangers include black and silver. Paint the walls and furniture in Power Ranger colors. A basic matte finish is fine, but using a semi-gloss will help mirror the shine of the Rangers' uniforms. Incorporate these colors with accessories, like floor rugs, window treatments and lamps throughout the space.
Bedding
An obvious choice for the room design would be to cover the child's bed with Power Ranger bedding. This can be bought in some bedding stores, but shopping online might be your easiest solution. Look for pillow shams, bed skirts and comforters that feature the Power Rangers and their logo. If you can't find official Power Ranger bedding, choose bedding in colors and styles that complement the room's decor. For example, find fabric with a satin-style sheen to it to resemble the shine of the Power Rangers' uniforms.
Design Accents
Designs from the show will help to cement the Power Ranger theme. For example, accent the room with metallic lightning bolts. This could be incorporated into a wall mural or in framed art that can be placed on the wall. The lightning bolt is part of the Power Ranger logo that has stayed consistent with the show since the first season aired in 1993.
Another idea would be to customize the room to your child's favorite season of the show. For example, the original Mighty Morphin Power Rangers wore a white diamond pattern on their uniforms. The cast of Power Rangers Galaxy featured costumes with a black chevron pattern across their chests. You can incorporate these design elements into wall art, accessories and bedding.
Warning
Avoid decorating with any permanent design features, such as wallpaper or lighting fixtures that will be difficult to remove. Children are always growing, and their interests are changing. Even if they love the Power Rangers now, there is no guarantee that they will a year from now. Installing these details not only costs money, they cost time and labor.