Built-In Sizes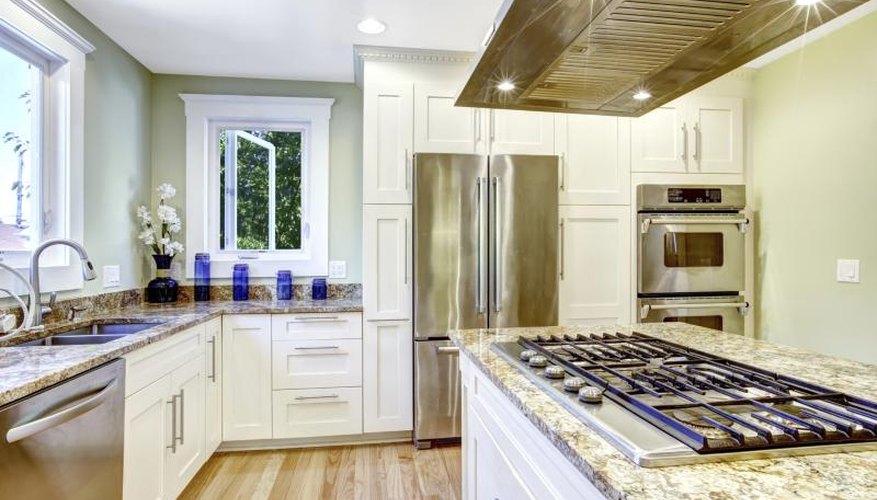 A built-in refrigerator is a freestanding appliance that looks as if it was snugly built right into the wall of surrounding cabinets. Many people prefer having a built-in fridge rather than one that sticks out from the wall or stands alone along a wall. The beauty of the built-in refrigerator is that it is the same depth of the counter (or cabinet), which creates a flush, streamlined look in the kitchen. As the built-in appliance market matures, however, so do the many available options.
A built-in refrigerator has different measurements than a traditional standalone fridge. A traditional refrigerator is about 30 to 32 inches deep and tends to stick out from standard counters and cabinets. A built-in refrigerator needs to be flush with standard counters and cabinets, so it will be 25 to 27 inches deep. The reason a built-in model is shallow is because the refrigerator's compressor is not placed in the back of the appliance but is designed into the top or bottom, says Joanne Kellar Bouknight, author of "The New Kitchen Idea Book." But you won't lose space with a more shallow built-in refrigerator. This style of appliance is higher and wider than traditional refrigerators, partly to accommodate the compressor, but also to add space. You can have a semi-built-in look when you buy a standard refrigerator and place it in cabinetry, but it will stick out.
Built-In Styles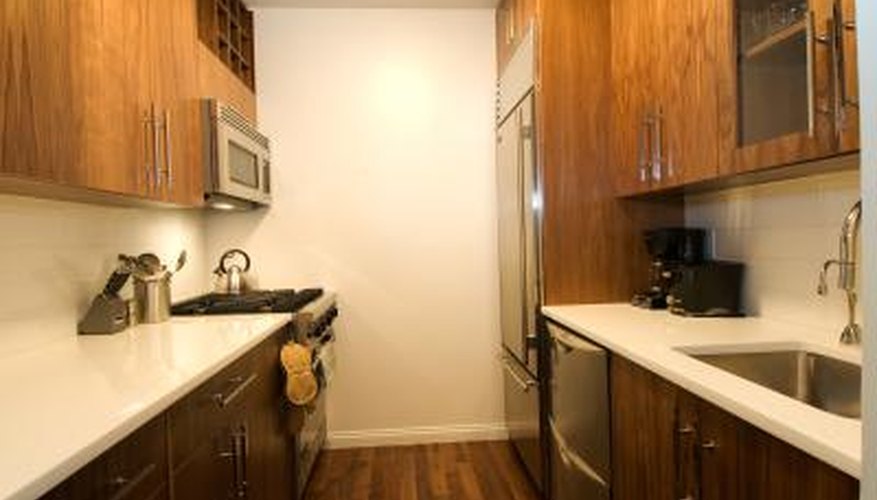 Not all built-in refrigerators look alike. What differs is the way the doors are styled and finished. You might prefer that your built-in have a traditional stainless finish, or you can cover the doors with custom panels. Another look for a built-in refrigerator is to replace the doors with glass inserts. Most luxury brands of built-in refrigerators have slightly different versions of built-in doors that have the same look as kitchen cabinetry. For example, an overlay door has panels that cover the entire door from edge to edge, while a framed door's panels leave a bit of the refrigerator's finished edge exposed. A paneled flush inset and stainless flush inset each has a completely flush door and grille for a seamless look.
Integrated Refrigerators
Another level of built-in refrigeration is called integrated refrigeration. An integrated refrigerator disappears into the decor of the kitchen, and you typically can't tell behind which door the appliance is installed behind. Integrated refrigeration also comes as drawers and columns (half the width of traditional refrigerators) that can be installed in rooms other than the kitchen. When integrated, they look like any other piece of built-in cabinetry.
Style Has Its Price
A true built-in refrigerator is more expensive than a traditional appliance. Some manufacturers are now producing freestanding counter-depth models for a semi-built-in appearance at less cost. A true built-in cost over $6,000 at the time of publication. Depending on make and model, some freestanding refrigerators can cost the same. Remember that when installing a built-in refrigerator, there are additional costs of panels if you are opting for an overlay design.