Staple Gun/Upholstery Tacks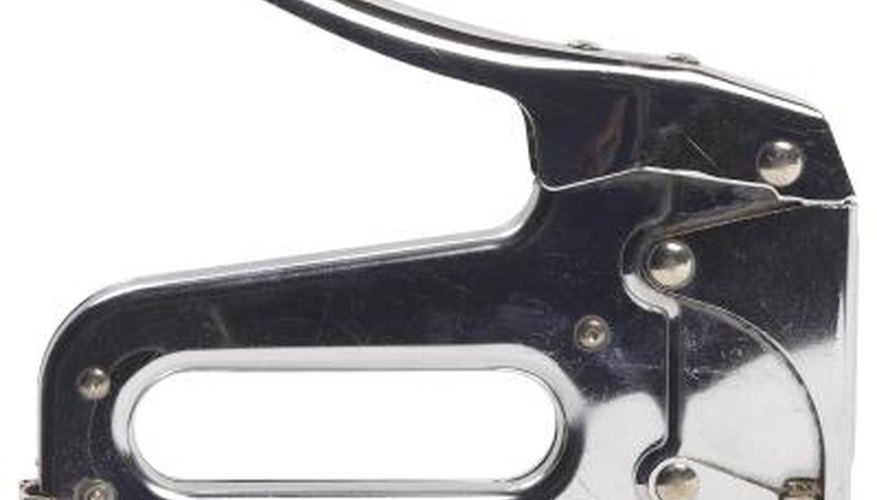 Reupholstering a chair is a great project for beginners. The basic steps include removing the old fabric, measuring out and preparing new pieces of fabric and applying the new material. Be sure to obtain all the necessary tools before you start a reupholstering project, particularly if you are working alone. You may even want to purchase an upholstery kit, such as the one available at Perfect Products Online. com, listed in the Reference section below.
A staple gun or upholstery tacks allow you to attach the new upholstery material to the chair frame. A heavy duty staple gun is the most effective and allows you to easily attach the fabric to the frame, but upholstey tacks will also do the trick.
Staple Puller or Ripping Chisel
Staple pullers and ripping chisels are both helpful tools, which allow you to remove previously applied staples or tacks. Most staple pullers can be used for a wide range of staple sizes; ripping chisels work well on upholstery tacks.
Rubber Mallet
If you use upholstery tacks, you will definitely need a rubber mallet. The rubber head will not damage the frame of the chair. If you are not using upholstery tacks, you may still want to buy a rubber mallet, which can also be used to install ply grips or to tack up parts of the fabric that may be harder to reach with a staple gun.
Upholstery Pins
Upholstery pins hold the fabric in place to allow for more effective stapling. Pins are especially helpful if you are reupholstering by yourself. Look for heavy-duty, 3-inch, 16-gauge upholstery pins for best results.
Webbing Stretcher
A webbing stretcher helps to stretch the fabric across the frame and hold it in place. Again, this tool is very helpful if you are working alone. The gooseneck webbing stretcher's design makes it much easier to keep webbing close to the frame, and is recommended for most reupholstery jobs, according to the web site Home Decorating Ideas.
Sharp Scissors
A sharp pair of scissors is necessary to cut fabric in a clean, precise manner.