Create a Greenhouse Bench to Suit Your Growing Needs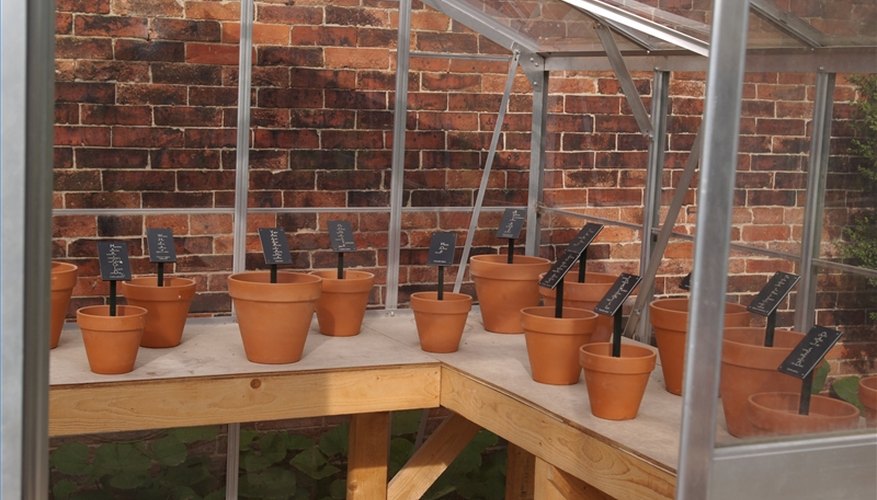 A greenhouse bench should be sturdy with a good amount of storage. Your bench holds your prized plants and supplies. Use a little care and planning to create a long-lasting treasure.
Greenhouse benches in their most basic form are shelves to hold plants and seed flats. Adding storage, built-in growing beds, heat, sinks, an expanded work area or other features improves the function and efficiency of the benches. The exact form of the bench will follow its specific function; however, there are some factors common to all greenhouses which will help you in making your own greenhouse bench.
Materials
Construct your bench from a choice of wood, galvanized metal, composite plastic or concrete products, or some combination of those materials. Greenhouses are, by design, warm and humid and these conditions will affect whatever material you choose. Benches need to be very sturdy to support the weight of many potted plants. Space is always at a premium in every greenhouse, so prepare in advance for the time when you will give in to temptation and overload your bench with plants or other items.
Wood benches are best suited for DIY projects. Lumber is readily available, relatively easy to use and can be conditioned to resist rot and decay. Cedar, locust, redwood and teak are all naturally rot resistant. Treat these woods with a sealer to prolong their natural appearance. Pine, while usually less expensive than other wood types, is not ideal as a long term option for greenhouse benches because it is more susceptible to decay and insect damage than other choices. If you do go with pine, condition it with a protective sealer suitable for use around plants.
Size and design
If you are planning to have multiple benches, it is a good idea to make them of different heights to accommodate plants of different heights. If you will have only one bench, then a counter-height bench will serve well to hold plants and as a work surface. The depth of the bench should be only as far as you can comfortably reach to work with the plants farthest from you. Add a lower shelf to store materials, including soil amendments, small gardening tools, watering containers and extra pots. Save the space on top for plants which must have light, water and air.
Speciality
A slotted surface will allow water and debris to fall below for easier cleanup. Slots in the surface will also facilitate air circulation around your plants. For greater air circulation, consider adding a prefabricated mesh counter top to serve as all or part or the main shelf. The top of the bench can be constructed to act as a planting bed for seedlings. In effect, you will create a deep drawer or raised bed and fill it with your choice of planting medium. Sow the seeds or seedlings directly in the soil. Alternatively, gardeners may purchase special do-it-yourself kits to assemble greenhouse benches. These kits tend to be more expensive and less flexible than constructing something designed specifically for your space, however, all-inclusive kits can remove much of the uncertainty from the building process.