Ingredients of Fire Logs
Table of Contents
When manufactured fire logs were introduced in the 1960s, they were intended to make profitable use of industrial waste and byproducts: sawdust and petroleum wax. Since then, environmental concerns and processing improvements have led to modifications that make the logs more eco-friendly and even more user-friendly.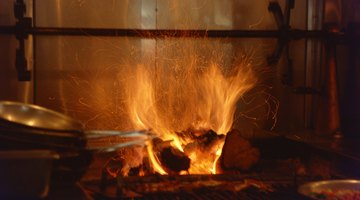 Ingredients have been changed to ensure that they're completely nontoxic and extremely clean-burning. Some mimic the look and sound of natural logs. But all have paper wrappers that are not removed before burning.
Wax and Oil
The waxes and oils used in manufactured fire logs, such as soybean, palm and pine tree oils, are derived from renewable sources. Theoretically, because these logs recycle plant material, they leave a minimal carbon footprint on the environment.
Wood Sawdust
Sawdust produced by various manufacturing processes has always been used to make fire logs. More recently, residual agricultural biomass products have been added to the mix. (Agricultural biomass refers to practically any plant material or organic waste produced by farming.) Recycled wood fibers are also used, to adjust the speed of burning and the amount of heat generated.
Ground Nutshells and Seeds
Nutshells and seeds add crackle to the fire, as well as biomass fuel.
Recycled Coffee Grounds
Harvested from coffee shops, offices and manufacturing plants, coffee grounds can replace sawdust and produce more heat energy than cord wood does.
Cardboard
For alternative fireplace logs, not just any cardboard will do. Waxed cardboard is used to make shipping cartons for perishable food products. It takes more than 50 years to biodegrade, and it can't be recycled like ordinary cardboard--just a little wax ruins the process. But it's perfect for fire logs: it doesn't need added wax or sawdust, and it produces more heat than other materials do.
References
Resources
Writer Bio
Kat Milner has 35 years' experience in publishing and design, both for print and for Internet. Her background includes business, technical, and educational writing and editing; book editing (fiction and nonfiction); news editing; feature writing (celebrity interviews, music reviews); and publication design. She attended Mount Holyoke College in South Hadley, Massachusetts.
Photo Credits
Jupiterimages/Comstock/Getty Images
Jupiterimages/Comstock/Getty Images
More Articles