Types of Concrete Stairs
Concrete is a durable and versatile construction medium, widely used for a variety of purposes, including stairways. Concrete stairways are frequently used in both commercial and home construction and they vary in the way they are made and their general design. The two main construction types of concrete stairs are precast and poured stairs, while the two major design types are suspended stairs and earth-supported stairs.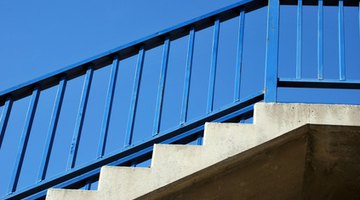 Precast Stairs
Precast stairs are factory-built and delivered to the construction site, where they are then installed into the house. Precast stairs are fast and convenient, ready to be used as soon as they are installed. They do not require a great deal of preparation, as there is no need to build forms or hire a concrete-pouring crew. In addition, many companies can design and built concrete stairs based completely upon the customer's design, allowing for a high level of versatility.
Poured Concrete
Poured concrete stairs are custom-made. They require a form to be built on-site into which the concrete can be poured, so they are more time-consuming than precast stairs. However, these types of stairs are extremely versatile, as they can be built to fit any needs specific to the site. They can have landings and can be built at any width or thickness.
Earth-Supported Stairs
Earth-supported stairs are a common design of concrete stairs. They are poured so that the concrete slab reaches all the way to the ground, providing the stairs with support from the lower ground. Earth-supported stairs can be built two ways: between two existing walls or with open ends. If the stairs are to go between two existing walls, then the forms must be built into the walls. They must be braced so that the wood will not bow under the pressure of the concrete. If the steps are being built with open ends, then two panels must be built on each side of the stairs. They can be larger than necessary but must be plumb and also well-braced.
Suspended Stairs
Suspended stairs do not reach all the way to the ground. Instead they hang up above the ground. Naturally, the forms for these stairs are much more difficult to build. They must have not only forms on the sides, but on the bottom as well. What is more, these forms must be well-supported. Suspended stairs, if built properly, are usually strong enough to support themselves.
References
Writer Bio
Justin Mitchell has been a writer since 2009. In 2002, he received a B.A. in theater and writing from the University of Northern Colorado. Mitchell worked as an ESL teacher in Europe and Asia before earning a master's degree in journalism from the City University of New York. He has written for the "New York Daily News" and WNYC.org, among other outlets.
Photo Credits
Urban stairs image by Alfonso de Tomás from Fotolia.com
Urban stairs image by Alfonso de Tomás from Fotolia.com
More Articles