What Stores Sell Galileo Thermometers?
The Galileo thermometer was the first of it's kind to determine air temperature. The glass-enclosed tube contains water and the bubbles are filled with either alcohol or water and food coloring. Each bubble has a different tag representing a temperature. The bubble that hangs in the middle is the current temperature.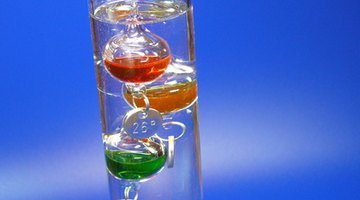 While accurate, these thermometers are now considered decoration items and can be found at a number of retailers.
Internet
Internet sites offer a wide variety of options and sizes for Galileo thermometers. Amazon, Ebay, and Buy.com all have large selections from which to choose. A number of specialty stores also carry them. Other online stores such as home and garden or weather related websites will have Galileo thermometers for sale.
Brick and Mortar
Wal-Mart carries a number of different styles of the Galileo thermometer, which can be found on the company's website or in the home decor section of Wal-Mart stores. Do it Best hardware stores also carry Galileo thermometers that can be used indoors or out.
Associated gifts
Galileo thermometers are often sold alongside weather balls. Weather balls have fluid-filled balls, and when the barometric pressure changes the liquid in the small tube off the ball will move up or down. Get matching pairs of thermometers and weather balls. You can expect to pay anywhere from $29 to $45 for a nice matching set.
References
Writer Bio
Michael Carpenter has been writing blogs since 2007. He is a mortgage specialist with over 12 years of experience as well as an expert in financing, credit, budgeting and real estate. Michael holds licenses in both real estate and life and health insurance.
Photo Credits
thermometer image by bofotolux from Fotolia.com
thermometer image by bofotolux from Fotolia.com
More Articles