Ingredients in Ajax Cleaner
Table of Contents
Ajax cleanser has long been renowned for its power. Its original slogan in the years after its invention in 1947 was "Stronger Than Dirt!" It is gentle enough to be used on soft plastic surfaces yet strong enough to cut through mineral buildup stains, bathroom scum and cakedon dirt.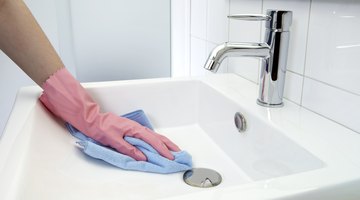 For decades, Ajax cleaner, or cleanser, has been a leading household cleaner. The list of Ajax ingredients may seem daunting, but they are nontoxic when used correctly and are powerful enough to take down stains on porcelain toilets yet gentle enough to clean plastic surfaces without scratching the soft surface.
History of Ajax Cleaner
When the esteemed Colgate-Palmolive Company was looking to further its footprint into heavy-duty cleaners, it created Ajax in the years following the end of World War II.
Ajax was the first of Colgate-Palmolive's brands to become a household name. It was given the moniker "white tornado" as a nod to its impressive and aggressive cleaning power.
Ajax Powder Evolves
The company stayed competitive by keeping ahead of the cleaning curve. It debuted a liquid form of Ajax in the 1980s that rivaled major brands for a large portion of consumer dollars.
The liquid form of Ajax was produced either with or without bleach, expanding its ability to clean more materials thoroughly but gently. This worked well on the stained and colored plastic countertops and flooring that were making their way into kitchen and bathroom decor.
What Is Ajax Made Of?
With all of the green cleaners crowding store shelves and garnering the attention of consumers, many of the traditional cleaning companies are being transparent in the power behind their cleaning ingredients. Ajax uses a mix of natural ingredients.
While Ajax has tweaked its recipe of ingredients over the last 70 years, it has kept two ingredients that give it its cleaning action. The two main components that make Ajax a top cleaner are calcium carbonate and sodium dodecyl benzene sulfonate.
The powder cleanser also includes soda ash, trichlorocyanuric acid, fragrance and dye to round out its recipe.
Calcium Carbonate Ingredient
This is the main ingredient that gives Ajax its scouring supremacy. It is made from ground-up limestone that is heated before being mixed with water. Carbon dioxide is finally added to the mix to produce calcium carbonate.
Once the mix is dehydrated, it forms calcium carbonate, also called monocalcium carbonate. This is safe enough to be used in putties and play crafts for children as well as in toothpaste and makeup as a binder.
Sodium Dodecyl Benzene Sulfonate Ingredient
This second main ingredient in Ajax is also used in facial soaps and makeup. When used in high concentrations, this is a serious scrubbing agent. It is gentle and nontoxic but can be dangerous when inhaled or if it comes in contact with the eyes.
If left too long on skin, which can happen when working on large cleaning jobs with bare hands, it can cause redness and irritation.
Soap, Bleach and Ajax
Many users want to mix the Ajax powder with a solution of bleach and water. When it is mixed with liquid bleach, it can cause a toxic cloud to form.
Ajax powder can be bought with or without bleach. If you are hoping to disinfect a surface, use the Ajax with bleach. This product also works well in the wash to whiten work clothes and to get bathroom tiles gleaming.
A solution of dish soap, water and Ajax won't cause an overwhelming aroma and is safe to combine. However, it is probably overkill. Ajax cleanser includes all you need.
Ajax Dish Soap
Ajax dish soap will cut through grease and lift baked-on food from plates and pans. It is made of:
Water
Ammonium C12-15 pareth sulfate
Lauramidopropylamine oxide

SD alcohol 3-A

Sodium chloride

Poloxamer 124
It is finished off with fragrance, methylisothiazolinone, benziosothiazolinon, pentasodium pentatat, sodium bisulfite and dyes.
References
Writer Bio
Kimberley McGee has written for national and regional publications, including People magazine, the New York Times, Los Angeles Times, Las Vegas Review-Journal and more. The award-winning journalist has covered home decor, celebrity renovations, and sat down with reality HGTV stars to discuss the latest trends.
More Articles