What Is Connemara Marble?
Connemara marble comes from one place in the world: the Emerald Isle -- the poetic name for Ireland. Often used as a decorative facing stone or for a variety of handmade Irish jewelry and gifts, you can recognize this serpentine-rich rock by its variegated ribbons of green.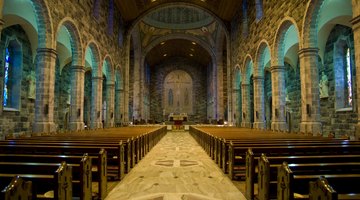 Connemara marble comes from the district of the same name that inhabits a wide peninsula between Kilkieran Bay and Killary Harbor on the western side of Ireland.
The Meaning in a Name
Bordered by the Atlantic Ocean on three sides, the district of Connemara gets its name from the Irish term, Conmhaicne Mara, which translates as "descendants of Con Mahc" -- of the sea -- the Celtic tribes people who lived in this area. This area sits inside the territory of West Connacht, in portions of County Mayo and County Calway. The marble quarried in this region is primarily used for small jewelry and gift items, though it's also used in home decor. The Roman Catholic Galway Cathedral has a floor made entirely of Connemara marble, which is quarried locally.
Home Decor Applications
As a high-end home decor luxury item, Connemara marble comes in dimensional slabs just over 3/4 inch thick, although you can custom-order slabs a tad over 1 inch thick when purchased in large quantities. Some Irish quarries also offer tiles just under 1/2 inch thick. Connemara marble is available from select U.S. retailers, who obtain it from regional stocking distributors.
At Least 40 Shades of Green
Rumored to have more than 40 shades of green, Connemara marble also contains black, gray, whites, yellows and pink and green-tinged beige. With ranges of color in almost black-green, emerald, peridot, olive and pale apple greens, when you choose Connemara marble for use in your home, pick the marble at the retailer site who carries it rather than from a picture sample online. Some slabs are cut to book-match with mirror images when abutted together. Some artists even sculpt home decor pieces from blocks of Connemara marble.
The Luck of the Irish
At times referred to as Ireland's gem stone, Connemara marble contains the luck of the Irish, as a representative of Irish's lush green hills and dales. Irish folklore says that if you rub a Connemara marble worry stone between your thumb and index finger, it can bring a sense of calm and reduce anxiety. As a traditional gift of friendship between multiple generations of families, Connemara marble is also said to bring good fortune and serenity to those who receive it as a gift.
References
Resources
Writer Bio
As a native Californian, artist, journalist and published author, Laurie Brenner began writing professionally in 1975. She has written for newspapers, magazines, online publications and sites. Brenner graduated from San Diego's Coleman College.
Photo Credits
Lucas Marin/Hemera/Getty Images
Lucas Marin/Hemera/Getty Images
More Articles