How to Clean Cedar Walls
Favored for its natural aroma and reddish-brown grains, cedar wood paneling adds rustic charm to home interiors. Cedar paneling is prevalent in closets as it naturally repels moths and other pests that consume clothing. Although low maintenance, cedar wall panels inevitably become dirty.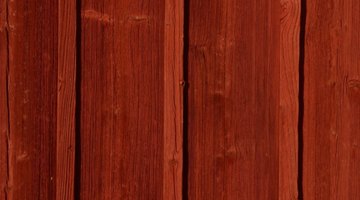 The narrow crevices within cedar panels accumulate dust and grime, which detract from cedar walls' appearance. Since cedar is an uncoated, raw wood, it requires mild cleaning techniques to prevent damage. Regularly clean cedar wall panels to preserve their naturally attractive appearance.
Things You Will Need
Microfiber cloths
Step stool
Vacuum with brush attachment
Pail
Wipe the cedar wall panels with dry microfiber cloths to lift excess dust. Remove as much dust as possible, replacing the cloths as they become dirty. Stand on a step stool to access unreachable portions of wall panels.

Glide a vacuum brush attachment along the narrow crevices in the cedar panels to extract hidden dust. Stand on the step stool to vacuum unreachable areas of wall panels.

Fill a pail with fresh, plain water. Moisten a clean microfiber cloth in the water. Wring out the cloth thoroughly.

Wipe the lightly moistened cloth along the length of one of the cedar wood panels to remove stubborn grime. Stand on the step stool, if necessary.

Rinse the cloth thoroughly in the pail of water. Continue wiping each cedar wall panel with the dampened cloth, concentrating on just one wall panel at once. Rinse the cloth thoroughly after cleaning each panel, and replace the rinse water often.

Let the cedar wall panels air-dry completely.

Warning

Spot-test the damp cloth on the cedar to ensure the wall panels do not become damaged.
References
Writer Bio
April Dowling first started writing in high school and has written many news articles for newspaper and yearbook publications. She is currently pursuing a career as an online writer and affiliate marketer. Dowling writes for several websites and keeps many blogs.
Photo Credits
Jupiterimages/Photos.com/Getty Images
Jupiterimages/Photos.com/Getty Images
More Articles