How to Reduce a Forced Air Noise
It is common knowledge that forced air systems make noise when they run. However, this noise does not have to be disruptive or cause discomfort. In fact, loud noises from the forced air unit are often signs of trouble in the system.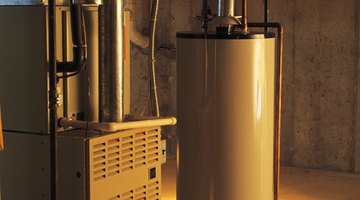 The problems include air leaks, obstructions, broken components, and even mis-sized ducts or furnace components. Fortunately, several options exist to help you reduce the loud noises coming from your forced air system.
Inspect the grills and ductwork. Tighten the screws on the grills and heat registers. Replace ductwork that has holes, cracks or dents as these amplify the sound from the blower.

Clean your ventilation system. Contact a furnace maintenance company to clean the furnace components and ductwork. Clear debris from heat registers and grills. Debris, dust, dirt and water in these areas cause vibrations and sounds of their own, as the air is forced through the system.

Clear the area around the registers and grills. Place furniture and other items beside the registers and grills to prevent excess noise as the air attempts to escape from a small space.

Replace the ducts with insulated ducts. According to Owens Corning Corp., these ducts are made of acoustic duct board that is composed of fiberglass held together with resin. The ducts must be replaced by a professional.

Wrap existing ducts with insulation or duct liner. Follow the manufacturer's instructions for installation, including the safety precautions listed.

Maintain the system regularly. Replace any broken components, and have the system cleaned at least once a year.

Determine the ventilation needs for a new home carefully, to avoid loud forced air noise later. A mis-sized system can lead to a very loud forced air system.

Warning

An increase in noise from the forced air system or the addition of other sounds like whistling or screeching can be signs of furnace failure. Contact a heating and air professional to inspect your forced air system before the components fail.
References
Writer Bio
Jonita Davis is freelance writer and marketing consultant. Her work has appeared in various print and online publications, including "The LaPorte County Herald Argus" and Work.com. Davis also authored the book, "Michigan City Marinas," which covers the history of the Michigan City Port Authority. Davis holds a bachelor's degree in English from Purdue University.
Photo Credits
Comstock/Comstock/Getty Images
Comstock/Comstock/Getty Images
More Articles