Can I Use Rubber Cement to Repair Vinyl?
Rubber cement is made using unvulcanized natural or synthetic rubber dissolved in a solvent. The solvent may contain heptane or hexane and isopropyl alcohol (isopropanol) or ethyl alcohol (ethanol) in varying amounts depending upon the individual manufacturer's proprietary formula.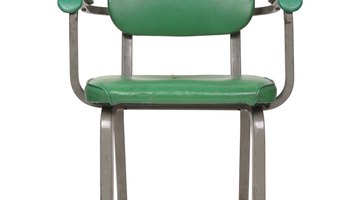 Because the formula and strength cannot be easily determined, using rubber cement to repair vinyl is not recommended. The solvents present in rubber cement may adversely react with vinyl and cause the vinyl to dissolve.
Rubber Cement Formulations
Rubber cement is an opaque liquid that may be made using several different formulations.The base of all rubber cements is either natural gum rubber or synthetic rubbers such as neoprene or nitrile. Different grades of rubber cement may contain pulverized natural or synthetic rubber in combination with 70 percent to 90 percent heptane or hexane and 1 percent to 15 percent isopropanol or ethanol. Solvent percentage and resultant strength may or may not produce a rubber cement that can dissolve vinyl.
Vinyl Adhesive Recommendations
Vinyl requires an adhesive that is strong, water-resistant and quick drying. Three products that meet these needs are polyvinyl acetate, vinyl cement and polystyrene constructive adhesive. Vinyl adhesives, sold in tubes for smaller, home-based do-it-yourself repair work, dries flexible and clear to form a strong, waterproof bond. Clamping is usually not required as most vinyl adhesives cure in 10 to 20 minutes. Hardware and home-improvement store personnel may advise you as to what adhesive will work best for your project.
Rubber Cement Drawbacks
Rubber cement is routinely shipped with an accompanying material safety data sheet (MSDS) that advises the end user how to handle and store the product. The solvents in rubber cement are flammable and may be hazardous if the cement is used without the benefit of safety gloves, masks and other recommended protective equipment. Read the product label to avoid accidents or injury. The 1990 Clean Air Act Amendments list the solvents found in rubber cement as hazardous air pollutants.
Water-Based Adhesives
Vinyl adhesives are resin cements based on an emulsion of ethylene vinyl acetate (EVA) or polyvinyl acetate (PVA). These polymers are water-based and therefore far more environmentally friendly than the solvent-based rubber cements. The bond produced by vinyl adhesives have a higher degree of resistance to water than the even more benign starch-based, dextrine adhesives that are used to bond paper and attach packaging labels. For the best results with the least negative environmental impact, vinyl adhesives should be used for vinyl repairs.
References
Resources
Writer Bio
Kevin Ann Reinhart, a retired teacher-librarian, has written professionally since 1976. Reinhart first published in "Writers' Undercover" Cambridge Writers Collective II. She has a bachelor's degree in English and religious studies from the University of Waterloo and a librarian specialist certificate from Queen's University and the University of Toronto.
Photo Credits
PhotoObjects.net/PhotoObjects.net/Getty Images
PhotoObjects.net/PhotoObjects.net/Getty Images
More Articles