How to Use Gum Tragacanth for Leatherwork
Gum tragacanth is a natural gum, harvested from Astralagus bushes found in the Middle East. It is used commercially as a stabilizing and thickening agent for food, cosmetic and pharmaceutical products. The same thickening properties make it useful for firming and coating leather for craft projects.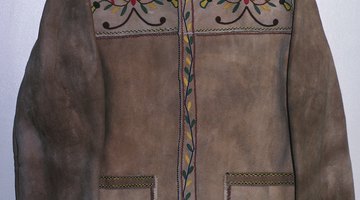 Things You Will Need
Wool shoe polish dauber, soft cloth or small sponge
Gum tragacanth
Small mixing vessel
Edge beveler
Bone folder, edge slicker, or piece of canvas
Gum tragacanth is particularly recommended for treating vegetable-tanned leathers. You can obtain it easily from a leather crafts supply store and use it to create smooth, stiff edges on leather belts. You can also use gum tragacanth to prepare leather for finishing, and as a backing for soft leathers.
Prepare the leather for treatment by beveling the top, bottom and buckle end edges of a belt with an edge beveler, or by cutting nappa or nubuck leather into the shape you want, to prepare for further finishing or embroidery work.

Mix 2 or 3 tablespoons of gum tragacanth with a few drops of water in a small mixing vessel, to thin it for use in firming soft leather. Stir with any plastic tool and add water, a few drops at a time, until the solution is thin enough to spread easily. Use undiluted gum tragacanth to finish belt edges.

Apply the thinned or undiluted gum tragacanth to the leather surface, using a wool dauber for small, narrow surfaces such as belt edges, or a soft cloth or sponge for larger soft leather surfaces.

Rub the gum tragacanth into the surface of the leather with a piece of canvas or a coarse, dry cloth. Use an edge slicker or a bone folder to rub the gum tragacanth into the edges of a belt. Repeat the process until the belt edges develop a burnished, smooth finish, or until the soft leather is firm and smooth enough for its intended use or finishing procedure.

Allow the gum tragacanth to dry thoroughly, for about an hour, at room temperature. Continue finishing your leather belt or soft leather creation as desired.

Tip

Use a belt sander to sand the edges of your belt with fine sandpaper, to obtain the smoothest possible finish, before you apply gum tragacanth to the edges.

Warning

Do not use gum tragacanth on surfaces that will be dyed or stained, as it may affect absorption of some coloring agents. Gum tragacanth can be used on colored leathers, so it is best to dye, stain or antique leather before applying it.
Writer Bio
John DeMerceau is an American expatriate entrepreneur, marketing analyst and Web developer. He now lives and works in southeast Asia, where he creates websites and branding/marketing reports for international clients. DeMerceau graduated from Columbia University with a Bachelor of Arts in history.
Photo Credits
Hemera Technologies/Photos.com/Getty Images
Hemera Technologies/Photos.com/Getty Images
More Articles