How to Kill Screwworms
The screwworm is a form of parasitic fly with orange eyes and an iridescent greenish-blue body. The screwworm fly is much larger than the common housefly and can travel up to 180 miles in a day in search of a host. After mating, the female fly lays her eggs at the edge of an animal's open wound.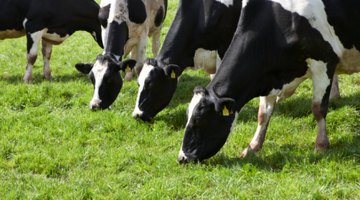 Once hatched, the larvae crawl into the wound to feed on the animal's flesh, turning it into liquid in the process. According to the University of California, although screwworms were eradicated from the United States in 1982, there have since been several reported cases.
Identify animals with screwworm infestations. Look for foul-smelling wounds that secrete a dark liquid. Sheep, birds, goats and cattle are the most frequent targets for the parasites. According to the All About Worms website, sheep may attract screwworm flies around their eyes.

Buy a screwworm aerosol or spray that will kill the parasite without harming its host. An example is the Bureau of Entomology and Plant Quarantine's "EQ 335 Screw-worm Remedy." Avoid homemade remedies such as creosotes and coal tars since, according to the Science in Farming website, these aggravate the wound further by destroying tissue.

Isolate the infected animal and hold the can about 6 inches from the wound. Spray the area for between three and ten seconds, until it is entirely wet. Also, spray the surrounding area, being careful not to spray in the animal's eyes. Repeat the treatment until the wound is clean.
References
Writer Bio
Justin Schamotta began writing in 2003. His articles have appeared in "New Internationalist," "Bizarre," "Windsurf Magazine," "Cadogan Travel Guides" and "Juno." He was a deputy editor at Corporate Watch and co-editor of "BULB" magazine. Schamotta has a Bachelor of Science in psychology from Plymouth University and a postgraduate diploma in journalism from Cardiff University.
Photo Credits
BananaStock/BananaStock/Getty Images
BananaStock/BananaStock/Getty Images
More Articles