How to Identify a Worm
The study of worms is helminthology. There are thousands of different kinds of worms. They are divided into four main groups: Platyhelminthes or flatworms; Nemertea or ribbon worms; Nematoda or roundworms; and Annelida or segmented worms.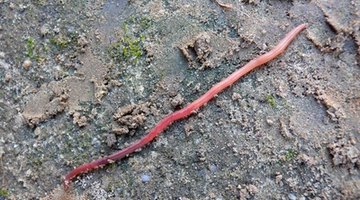 While there are many different types of worms, all have specialized organs that allow them to respond to chemicals in their environment. All worms are also invertebrates, meaning they do not have backbones. Most worms can be identified by a few distinguishing features.
Examine the worm visually.

Make a note of any distinguishing features. Earthworms have long, thin bodies. Earthworm bodies are thick in the middle and taper equally toward the ends making it difficult to distinguish their heads from their tails. Blue nose worms have a blueish coloring at the tips of their bodies. Flatworms are flat and thin.

Measure the worm. Size is sometimes the only way to differentiate between some of the species.

Match your results to a dichotomous key, a tool that allows you to determine the identity of items in the natural world by walking you through a series of steps.
Things You Will Need
Tape measure
Dichotomous key
Tip
You can find dichotomous keys, often arranged by region, at your local library.
References
Writer Bio
Amanda Goldfarb became a freelance writer in 2006. She has written many articles for "Oviedo TRI-Lights," "Cool Runnings" and several other health- and fitness-related blogs. She has also contributed to her town's tri-club newsletter. Goldfarb obtained her Bachelor of Arts degree in English from the University of Central Florida and is currently pursuing a degree in emergency medical services.
Photo Credits
earthworm image by ril from Fotolia.com
earthworm image by ril from Fotolia.com
More Articles