How to Get Gas Stains Off of an Asphalt Drive
Your asphalt driveway can be a little more sensitive than you might think. If you use inappropriate cleaning methods, for example, you can actually scratch and damage the surface. One common surface stain you might have to tackle is a gas stain.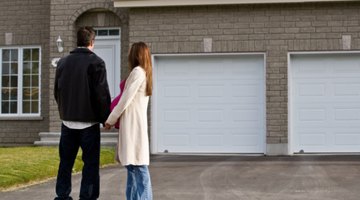 If you see this type of stain on your asphalt driveway, take your time and use the correct cleaning methods. The gas needs to be properly cleaned to both protect your asphalt and for your own safety.
Things You Will Need
Cat litter
Broom
Dust pan
Coffee can with lid
Powdered detergent
Water
Scrub brush
Cover the gas stains on your asphalt driveway with regular cat litter if they are still wet. This will absorb the gasoline. Let the cat litter sit on the gas in the driveway for several minutes.

Use a broom and dust pan to sweep up the cat litter, along with the gas it absorbed. Place the cat litter in a coffee can or other metal container with a sealable lid.

Sprinkle a liberal amount of powdered detergent onto the gas stains left behind on the asphalt. Add small amounts of water until it forms a paste. Let the paste sit on the stain for several minutes.

Scrub the stain using a cleaning scrub brush. Rinse periodically and add more powdered detergent and water. Continue scrubbing until the stain is gone.

Rinse the asphalt driveway one last time to remove all remnants of gas and cleaning solution.
References
Writer Bio
J. Johnson has been completing freelance writing work since September 2009. Her work includes writing website content and small client projects. Johnson holds a degree in English from North Carolina State University.
Photo Credits
Jupiterimages/Photos.com/Getty Images
Jupiterimages/Photos.com/Getty Images
More Articles