How to Clean Mahogany Furniture
Mahogany is the name for many different types of dark wood. Usually reddish-brown in color, this highly durable wood also boasts a great workability as it is almost always devoid of knots and pockets. This beautiful type of wood has been used for everything from musical instruments to boats.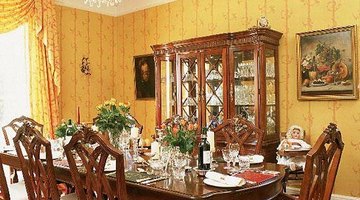 In the mid 1700s the colonists used it frequently for furniture. The warm inviting presence of mahogany only increases with time as it darkens as it ages. Proper care for mahogany furniture can extend its life for many years to come.
Things You Will Need
Oil or wax based furniture polish
Soft clean lint-free cloth
Mineral spirits
Walnut
Iodine
Mayonnaise
White toothpaste
Warning
Avoid water based polishes as this may damage the wood.
Polish mahogany furniture frequently, at least once a week. Avoid using too much furniture polish; in this case less is more. It's the actual motion and elbow grease that counts. Spray oil or wax based polish onto a soft clean lint-free cloth and rub the furniture gently.

Remove excess polish by wiping the furniture gently with a soft clean lint-free cloth dampened with mineral spirits until the excess polish is gone.

Fill in scratches by rubbing a walnut into the scratch. Be sure to rub with the grain of the wood for best results. Another method is to rub a Q-Tip along the scratch that has been dipped in iodine to darken it.

Mix mayonnaise and white toothpaste in equal parts and rub it into the furniture with a soft clean cloth. This will help to remove rings from glasses.

Remove water stains by rubbing lemon oil onto the stain and allowing it to sit overnight. In the morning, wipe the area clean of any excess oil.
Writer Bio
Melynda Sorrels spent 10 years in the military working in different capacities of the medical field, including dental assisting, health services administration, decontamination and urgent medical care. Awarded the National Guardsman's Medal for Lifesaving efforts in 2002, Sorrels was also a nominee for a Red Cross Award and a certified EMT-B for four years.
Photo Credits
www.housetohome.co.uk
www.housetohome.co.uk
More Articles