How to Use Pallets to Make a Walkway
Walkways are a fantastic way to add interest to any home garden. Instead of spending tons of cash on brand new materials, track down wood pallets from restaurants, retail or grocery stores and recycle them into your design. The wood pallets do not need to match.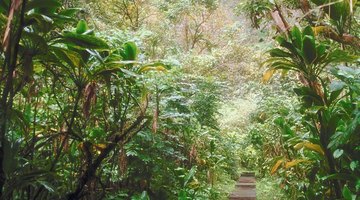 Things You Will Need
Wood pallets
Landscaping timbers
Long wood nails
Weather sealant
Hard-bristled paintbrush
Plastic tarp
Hammer
Measuring tape
Using a mixture of wood from the pallets will add interest to your walkway. The result will be a stunningly rustic walkway with an old world feel, and your garden will be an oasis that you and your friends will be able to enjoy on hot summer days for years to come.
Remove the wood planks from each pallet carefully. Use a hammer and pull the nails from the boards. Examine each board once you have finished, ensuring that you have not missed any nails. Take all the boards outside and lay them on your tarp. Look at the length that the boards stretch to make sure it is long enough to suit your garden. Add more wood planks from your pallets if you need to add length to your walkway.

Apply weather sealant to each of the boards on the tarp with a paintbrush. Allow to dry according to the directions on the packaging of the weather sealant. Flip each piece of wood over and apply a coat of sealant to each. Allow to dry again and apply a second coat of sealant to each side of all the wood pieces, if necessary.

Measure the length of one of the boards that has dried on the tarp. Remove all boards from the tarp and stretch the tarp along the area where you would like your walkway to go. Lay the landscaping timbers parallel to one another on top of the tarp, spacing them apart the length of the board you have measured.

Take each sealed board that you have prepared from the pallets and lay on top of the landscaping timbers one by one. Make sure to space each board apart evenly, and check to ensure that each is lying on top of each side of the landscaping timbers evenly as well. Once you have laid each board down and your walkway is in place, take long nails and hammer into each side of each board. Use two nails for each side.
Check out this related video.
References
Writer Bio
Sarah S. Terry began writing grants and reports for nonprofit and government agencies in 2002. She specializes in coverage of personal finance and education. In 2002, she had a chapter published in "Academic Writing: Stepping Stones to the Profession." Terry holds a B.A. in sociology from the University of Louisiana at Monroe and an M.P.A. from Jacksonville State University.
Photo Credits
Jupiterimages/Photos.com/Getty Images
Jupiterimages/Photos.com/Getty Images
More Articles