Lennox Vs. Trane Furnace
Table of Contents
Lennox and Trane are two of the best known furnace brands available today. Though there are many similarities between the two brands, Trane has the edge when it comes to reliability and customer satisfaction.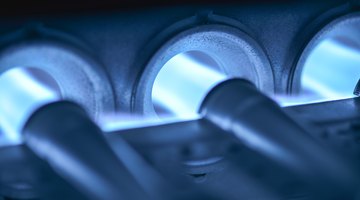 As any homeowner in a northern climate can tell you, not all furnaces are the same. Today's furnaces are more efficient and reliable than older units, with certain brands rated higher in customer satisfaction than others. Two of the most well-known furnace brands today are Lennox and Trane.
Furnace Efficiency
A furnace's annual fuel utilization efficiency (AFUE) rating measures how well a furnace coverts fuel into heat. A higher number reflects a more efficient furnace. For example, an AFUE of 65 percent, typical of furnaces in the early 1970s, means that 65 percent of the fuel being used is converted into heat. New gas furnaces are required by law to have a minimum AFUE of 80 percent. A furnace with an AFUE of 90 percent or above is known as a high efficiency furnace. A furnace with a higher AFUE will cost more than one with a lower AFUE, but the cost is often made up over time through reduced fuel bills.
Heating Stages
Furnaces are available in different speeds and stages – single-stage, two-stage and variable-speed. A two-stage furnace delivers heat on low stage 80 to 90 percent of the time. This results in a lower operating noise and less fuel usage. Variable-stage furnaces operate similarly to a lamp with a dimmer switch, providing more flexibility and reducing temperature swings. High efficiency furnaces are usually either two-stage or variable-speed units. Variable-speed furnaces are often the most expensive, with single-stage units tending to be the lowest priced.
Lennox Furnaces
Lennox has been producing furnaces since 1895. Today the company is a manufacturer of both oil- and gas-fired furnaces. The company offers two oil-fired models and ten gas-fired models. Lennox products are categorized into three series: the Signature, Elite and Merit. The Lennox furnace line includes several two-stage and variable-speed units. Lennox gas furnaces have efficiency ratings that range from a low of 80 to a high of 98.7 percent AFUE.
Trane Furnaces
Trane was founded as a family business by James Trane in 1885. Like Lennox, Trane offers two oil-fired furnaces. Its gas furnace line is larger than that of Lennox, with 14 models. Trane has several two-stage furnaces but only one variable-speed unit. Trane gas furnaces range in efficiency from a low of 80 to a high of 97.3 percent AFUE.
Which is Better, Trane or Lennox?
In many ways, Trane and Lennox furnaces are very similar. Both furnace lines include a similar number of high efficiency units. Lennox's top unit, the variable-speed SLP98V, has an AFUE of 98.7 percent, while Trane's variable-speed XC95M has an AFUE of 97.3 percent. Cost-wise, Trane and Lennox furnaces are quite comparable, with high efficiency models in the $1,500 to $2,500 range. There is a difference in consumer satisfaction, however. Trane is listed by Consumer Reports as one of its most reliable gas furnace brands, while Lennox is counted among the least reliable. Likewise, in a collection of consumer ratings on furnacecompare.com, Trane was listed as number 13 among furnace brands, while Lennox was down the list at number 20.
References
Writer Bio
Gary Sprague is a retired master plumber who started as an apprentice right out of high school and spent over 25 years in the family business. Most of his experience is in residential service and repair work, though he has also worked on new construction and commercial projects.
More Articles