What Is Zud Cleaner?
Produced by Malco, Zud is a line of home cleaning products designed to tackle heavy cleaning jobs in kitchens and bathrooms. Zud cleaners are available at a number of stores and online retailers throughout the United States.
Types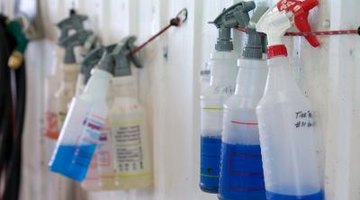 Zud is available as a powdered cleanser and as a liquid dispensed in a squeezable container.
Ingredients
Zud cleaners contains pumice granules and oxalic acid, according to the Malco's website.
Size
Liquid Zud cleaner is available in 19 ounce bottles, while the powdered form comes in two sizes--6 and 16 ounces.
Benefits
Zud is an abrasive cleaner that removes rust and other types of mineral stains from metals, porcelain and counter tops, according to Malco.
Cost
As of December 2009, the average cost of Zud liquid cleanser is $4.50, while the 16-ounce powder sells between $3.50 and $4.00
Writer Bio
Faith Davies has been writing professionally since 1996, contributing to various websites. She holds an LAH insurance license in the state of Pennsylvania and has experience as a bank branch manager and lending officer. Davies graduated cum laude from the University of Pittsburgh with a Bachelor of Arts in art history.
Photo Credits
Jupiterimages/Photos.com/Getty Images
More Articles