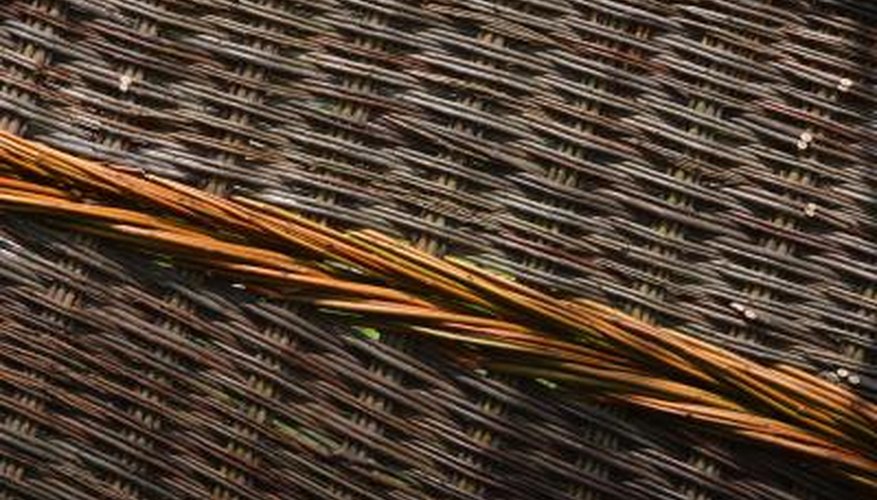 Wicker is a durable furniture material that works well both indoors and out. Wicker furniture is always in style, and by redoing your wicker desk; you are not only saving money, but also using your creativity to create a wicker desk everyone will lust after. With some spray paint and imagination, your wicker desk will be the star of any room.
Step 1
Set the desk onto a drop cloth in a well-ventilated area. Remove the drawers and any hardware from the desk.
Step 2
Remove any flaking or peeling paint with a wire brush and gently sand the entire desk with 120-grit sandpaper. Wipe away the dust with a tack cloth.
Step 3
Wipe down the desk with a rag soaked with mineral spirits to remove grease and residue. Allow the desk to dry completely.
Step 4
Turn the desk upside down and spray a coat of primer on the underside of the desk using short strokes and holding the can 6 to 8 inches away from the desk. Let the underside coat dry and flip the desk over to prime the top of the desk.
Step 5
Spray a coat of spray paint in the color of your choice to the underside of the desk, and then spray the top side when the underside is dry. Allow the paint to dry completely and spray a second coat of paint if the coverage is not ideal.
Step 6
Replace hardware and insert drawers. Let the paint cure at least overnight in a dry area to ensure that the paint will dry to a hard finish.
Things You Will Need

Drop cloth
Wire brush
120-grit sandpaper
Tack cloth
Mineral spirits
Rag
Spray primer
Spray paint
Tips
Choose a paint color that will pop in your room. Bright colors such as grass green, electric blue, sunny yellow and bright purple might be overwhelming on a wall but can work well for furniture pieces.

Spray drawer fronts in a different color to add interest to the piece.

If you have a shabby chic design element to your room, distress the paint with sandpaper.