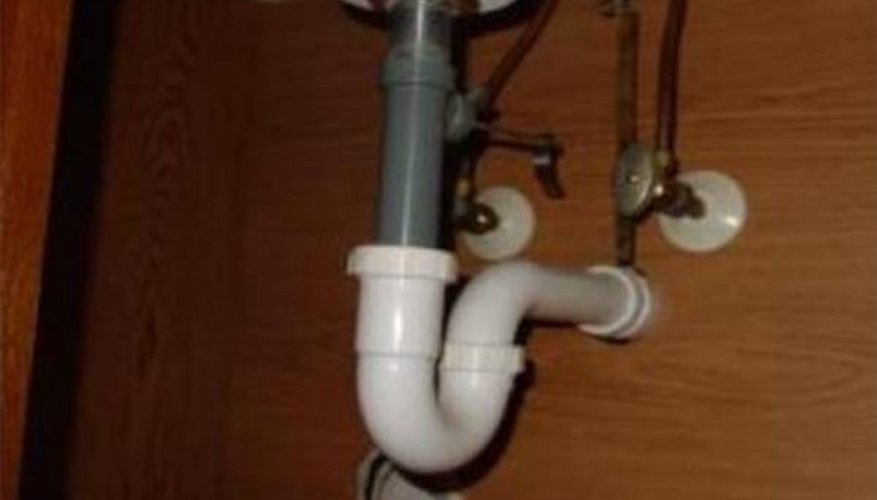 However, with proper tools and a little research, replacing the sink drain pipe of the vanity can be accomplished. The vanity drain pipe parts are available in a kit which includes the tail piece, a P-trap and the pipe that takes the drain pipe through the wall. Remember that the main difference between a vanity drain and a kitchen drain is that the vanity pipe is only 1¼-inches in diameter.
Place a bowl underneath the P-trap of the existing drainpipe. Loosen the two nuts that hold the P-trap in place.
Slide the P-trap down and into the bowl. Next, remove the bowl from underneath the sink and wipe up any excess water with the paper towels.
Locate and remove the nut to the tail piece that fits next to the sink bowl and remove the pipe. Then locate and remove the nut that attaches the pipe to the drainpipe at the wall and remove it as well.
Remove all the parts from the new kit to be certain that you have everything you need in the new one. Check the length of the new tail piece to be sure it's the same as the one you removed and install the new one. If it is not, cut the new one to the same measurement with a hacksaw first. Repeat this for the pipe that extends through the wall except do not install it yet.
Slip the top nut of the new P-trap on the end of the tail piece in preparation of installing the new P-trap. Next, slip the nut over the pipe extension that goes into the wall so that it can attach to the bottom side of the P-trap. Also, slip the nut on the same pipe so that it will attach to the pipe at the wall.
Place the P-trap so that the nuts on the other pipes will secure it to them. Locate the nut that secures the whole drain pipe to the one at the wall and secure it.
Things You Will Need

Adjustable pliers Hacksaw Vanity drain pipe kit Bowl Paper towels
Tip
Always be certain not to cross the threads of the drainpipe as this will compromise its integrity. Into the bowl and place it back underneath the P-trap and test all the connections by running water through the drainpipe.