How to Draw Your Own Pergola Building Plans
Building plans, or construction drawings, are useful in many ways. During the design phase, drawings help you test and assess your ideas on paper, before you start building. If your project requires approval from your city's building department, you'll need drawings to get a permit. Finally, detailed plans guide the construction, saving you time and headaches throughout the process. While you can create plans using software designed for house plans, a simple project like a pergola calls for the basic drafting tools of graph paper, a ruler and a pencil. For more detailed or sophisticated drawings, create your plans on plain paper, using an architect's scaled ruler and a drawing square.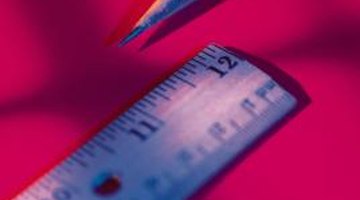 Step 1
Measure the actual dimensions of your patio or other space where the pergola will go. Also note the location of the house or other nearby structures that might bear on the design. Transfer these measurements to graph paper, converting the dimensions to an appropriate scale, such as 1/2 inch equals 1 foot.
Step 2
Create the plan view. This is the aerial, or bird's eye, view, looking straight down over the entire project. Lightly draw the outline of the roof structure first, to get an idea of the total coverage of the pergola. Mark the locations of the support posts, then the beams (and ledger board, if the pergola will attach to the house). Add the rafters, using even spacing, then add cross slats (over the rafters), if applicable. Use the grid lines on the paper to maintain the scale and keep everything square (perpendicular). Note the dimensions of all parts shown on the drawing.
Step 3
Create a side elevation on another piece of paper — a straight-on side view of the structure and any related neighboring elements, such as the house. Include all dimensions. It's also a good idea to label each part and its size; for example, "2-by-8 beam" or "4-by-4 post." Also note any important construction details, such as anchors or footings for the posts, and joist hangers (on the ledger board) for attached pergolas. If the sides of your pergola are not identical, create a side elevation of the other side of the structure.
Step 4
Create any detail drawings as needed. A detail drawing is a close-up view of any elements or features of the design that warrant specific attention. For a pergola, you might want to draw a detail of a decorative end cut on a beam or rafter.
Step 5
Refine any of the drawings as needed to reflect your final plans. Call your city's building department to learn about specific requirements for construction plans; make sure all requisite elements are included in your drawings.
References
"Lowe's Complete Patio and Deck Book;" Sunset Publishing Corp.; 2004
"Building Construction Illustrated, 3rd Edition;" Francis D. K. Ching and Cassandra Adams; 2001
Writer Bio
Philip Schmidt has been writing about homes for more than 19 years and is author of 18 books, including "Install Your Own Solar Panels," "PlyDesign," and "The Complete Guide to Treehouses." Schmidt holds an English degree from Kansas University and was a carpenter for six years before hanging out his shingle as a full-time writer and editor.
Photo Credits
Comstock/Comstock/Getty Images
More Articles