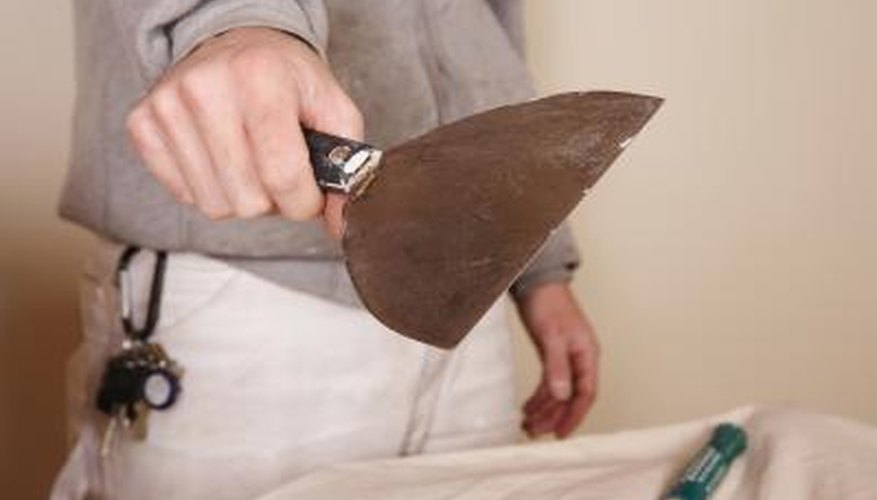 Elastomeric coatings provide a layer of insulation and reflect sunlight away from your roof. They can be used on metal, concrete, aged aluminum, brick and other roofs. Check with a professional builder or roofer if you do not know what your roof is made of.
Step 1
Pick a day for applying the coating when the temperature is expected to be above 50 degrees Fahrenheit and no rain is predicted. Begin early in the morning to complete the job in one day.
Step 2
Sweep up and dispose of any debris on the roof.
Step 3
Inspect the roof for any leaks. Carefully check all seams, vents, air conditioners, flashing or other protrusions for leaks or rust.
Step 4
Use a power washer or hose to clean the roof. Mix 1 cup of bleach with 1 gallon of water to remove mildew. Scrub any problem areas. Rinse the roof and sweep water off to allow faster drying.
Step 5
Get rid of any old roof coating and caulking that is peeling or flaking with a putty knife and sandpaper. Repair any other problems, such as tightening loose screws, sanding and priming small rust areas and replacing any deteriorated flashing or broken vents.
Step 6
Cover seams, edges, screws and flashing with patching cement. Spread it at least 1 inch from the edges and allow it to dry.
Step 7
Mix the white roof coating thoroughly with a stick. Use a long-handled paint roller and work directly from the 5-gallon bucket.
Step 8
Apply an even layer of coating along the roof, beginning at one end and working to the other. Finish at the end where the ladder is, so you have a way to get off the roof. Allow to dry for four to 12 hours, depending on the weather and the thickness of coating applied.
Step 9
Apply a second coat, going from one side to the other this time.
Things You Will Need

Ladder
Wire brush
Putty knife
Sandpaper
Bleach
Hose or pressure washer
Paint brush
Screwdriver
Patching cement
Long-handled paint roller