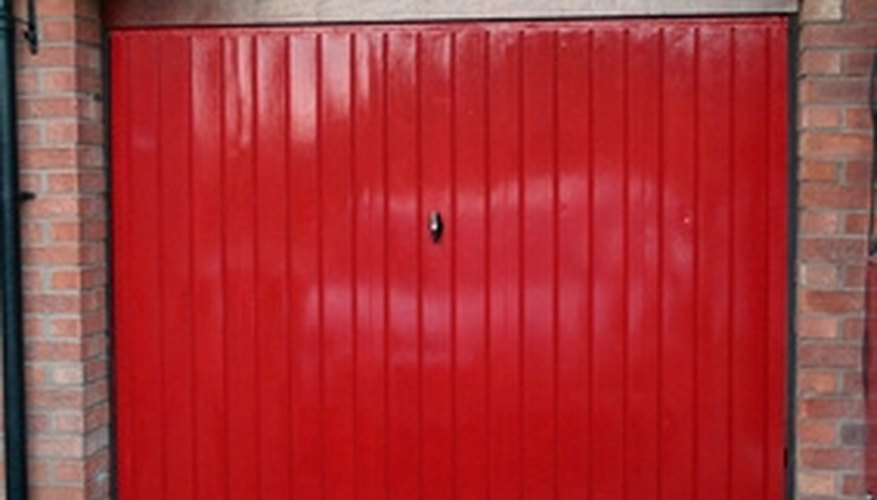 However, today's garages are different. Home owners are taking time to improve the interiors of their garages and make them useful for more than just car storage. Finishing a garage interior is not difficult. In fact, there are numerous ways to finish your garage to best cater to your family's needs and interests.
Finish the concrete floor of your garage. Visit your local home improvement store to purchase an epoxy concrete floor paint. Scrub and etch your garage floor to eliminate all dirt, dust and grime. Rinse it thoroughly with a water hose. Mix up epoxy paint according to manufacturer's instructions. Use a paint brush to paint epoxy onto the floor around wall edges. Use a medium-nap roller to apply paint over the rest of the floor. Do small areas at a time, stopping occasionally to toss in the color flakes. Prepare and apply the top coat of epoxy to seal the floor. An epoxy garage floor covering will prevent oil and gas spills from sinking into the cement. Oil, gas and other liquids will simply bead up on top of the finished floor for easy clean-up.
Finish the walls and ceiling of your garage by hanging drywall. Gather a family member or friend to help you with installation of drywall. Measure both the ceiling and the walls of your garage. Determine how much drywall you will need to purchase. Attach drywall to ceiling with screws using a power drill. Use a rotary saw to cut out holes around light fixtures. Attach drywall to walls with nails by pounding nails into wall studs. Fill in cracks between drywall sheets with plaster. Paint the walls with any paint color you want. Choose a bright color to make the space look larger.
Install a work area in your garage through the inclusion of a work bench, cabinets, a tool box, pegboards and shelves. The amount of space you can dedicate to your work area depends on the overall size of your garage. Make sure you have plenty of room to park your vehicle. Choose one side of your garage to create your work area. Hang pegboard on the wall with nails. Hang tools from pegboards if desired. Install cabinetry or a tool box for tools you may want to keep hidden.