How to Paint an Old Brass Headboard
Even if that old brass headboard no longer suits your style, there's no need to get rid of it. Instead, update it with a stylistic upgrade: a complete makeover in paint. Repaint the brass any shade you like, including other metallic colors, or give it a shabby chic or distressed look by layering colors and sanding through the shades in some areas. Brass requires a bit more preparation to repaint than other types of metal; if you skimp on the preparation and an appropriate primer, and the paint may not adhere at all.
Sand, Sand, Sand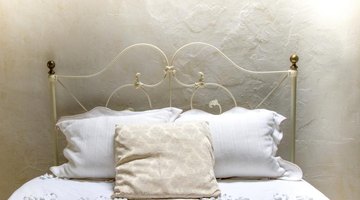 Sanding the headboard is a must when it comes to getting the primer and paint to adhere. Besides preparing the brass, it also helps remove any glossy topcoat that may be on the metal as a protectant. Work outdoors, ideally, atop newspaper or a plastic tarp. Use a fine-grit sandpaper or a sanding block to scuff up the metal -- a slightly flexible sanding block conforms to the metal a bit and doesn't require continual replacement like sandpaper does. Once done sanding, wipe the particles away with a tack cloth or soft cloth.
Prime Importance
Brass behaves a bit differently than steel in that it doesn't accept paint as readily. Remedy the problem by priming the brass areas with a self-etching spray primer or automotive primer. Work outdoors on a non-windy day or in a well-ventilated area to avoid breathing in fumes. Hold the spray can 12 to 18 inches away and work in even arm movements, starting the spray slightly before the beginning of the headboard each time for an even application. Once the primed side has dried completely -- the drying time may vary based on humidity or brand of primer -- flip the headboard over and paint the other side. Prime loose hardware such as nuts and bolts separately.
Applying the Paint
Since the headboard is already outside or in a well-ventilated area, it's already set up for painting. Select a quality spray paint, otherwise the savings may mean more cans of paint needed to produce a quality finish. Shake the spray can for a minute or so, then apply it in smooth, even strokes as you did with the primer. Work in thin layers instead of applying a large amount of paint in one spot to prevent drips and runs. Besides solid colors, some paint brands offer specialty finishes such as oil-rubbed bronze or hammered metals for a stylized finish.
Shabby or Antique Chic
Give that headboard a custom-aged, distressed finish by layering and removing paints. Paint it first in a base color, such as turquoise, rusted metal or black, allowing the paint to dry completely. Spray it the desired top color, such as white or pastel blue, then rub the wet paint away immediately with a rag on detailed areas or in a few select places to simulate the look of age. For an extreme chippy appearance, rub the dried base coat with candle wax, then brush on a top paint color, applying another layer of wax and yet another paint color afterwards. Sand through one or several paint layers in select areas, creating a look of a hand-me-down vintage piece. A protective sealer is unnecessary as it may make the paint look too shiny afterwards; skipping the sealer allows the headboard to age a bit more on its own.
References
Resources
Writer Bio
Kathy Adams is an award-winning journalist and freelance writer who traveled the world handling numerous duties for music artists. She writes travel and budgeting tips and destination guides for USA Today, Travelocity and ForRent, among others. She enjoys exploring foreign locales and hiking off the beaten path stateside, snapping pics of wildlife and nature instead of selfies.
Photo Credits
JannHuizenga/iStock/Getty Images
More Articles