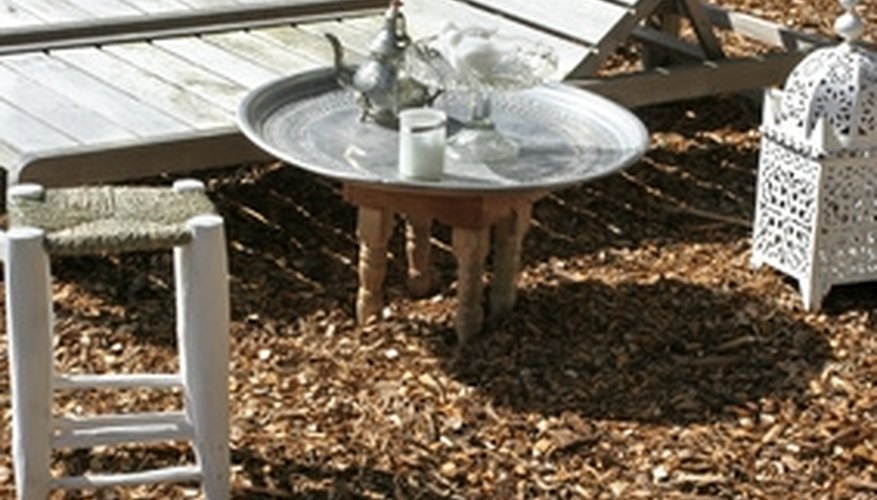 In addition, many outdoor furniture items are used in pool areas and need to be tolerant of pool chemicals. PVC pipe, originally designed for plumbing purposes, is a smart and inexpensive material from which to make your own outdoor furniture. There are dozens of types of PVC connectors to use as well, making any design possible. All the materials are readily available at hardware stores and home improvement centers.
Design, download or obtain plans for your PVC outdoor furniture from a book or other resource. You can find plans online, many of them free.
Gather the materials and tools for your PVC outdoor furniture project. This includes PVC pipe, PVC pipe connectors, PVC primer and cement, and spanning material if the plans call for it. You will also need tools such as measuring tape, a PVC pipe cutter and sandpaper.
Cut the PVC pipe to the lengths specified in the outdoor furniture plans with the PVC pipe cutter. Alternately, you can ask workers at the hardware store or home improvement center to cut it for you when you buy it.
Slide the ends of the PVC pipe lengths into the connectors according to the outdoor furniture plans. Do not apply primer or cement yet. You want to make sure everything fits correctly first.
Brush PVC primer on the outside of the end of one PVC pipe length that fits into a connector opening. Wait a few seconds and brush on PVC cement. Prime and cement the inside of the connector's opening in the same manner. Slide the PVC pipe end back into the connector. Repeat for all the joints in the PVC outdoor furniture piece.
Attach the spanning material such as canvas or webbing, such as for a chair seat or chaise longue bed. You may need additional hardware such as rivets or lacing for this step. Consult your plans.
Things You Will Need

Furniture plans
PVC pipe
PVC pipe connectors
PVC primer and cement
Weatherproof spanning material
Measuring tape
PVC pipe cutter
Sandpaper
Tips
Buy heavy-duty PVC pipe and connectors.

You can remove any manufacturing printing from the PVC pipe and connectors before you start your outdoor furniture project using rubbing alcohol on a cotton ball.

You may wish to paint your outdoor furniture item before you add the spanning materials. Lightly sand the piece first, then use a PVC primer before painting it.