How to Stain Plywood Cabinets
Plywood is a manufactured wood product that is made of several layers of wood veneer. Each of these layers are stacked together at right angles, and glued together. The top layer is the finish layer; on common plywood, it is generally pine. For decorative applications such as cabinets, the top finish layer can be made of virtually any type of wood there is. For these applications, hardwoods are favored due to their natural ability to stand up to abuse, and the fact that they show off their beautiful grain patterns when stained.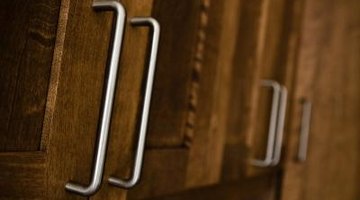 Sand the top of the veneer lightly with 220-grit sandpaper. This will remove any scuff marks, fingerprints or other blemishes before staining. Wipe off with a rag.

Apply a conditioner to the surface of the wood. Use a brush and apply an even coat on the entire plywood surface. Let it dry overnight before continuing.

Apply a wood sealer over the top of the conditioned wood. This will not only seal the wood conditioner into the wood pores, but will limit stain penetration. On plywood this is particularly important. The glues that hold the sheets of veneer together can effect stain penetration, which can leave blotches and uneven stain patches. Sealing the wood prevents this from happening. Allow the sealer to dry.

Sand the surface lightly with 220-grit sandpaper to scuff it up.

Apply your choice of stain. Use a bristle brush to apply oil based stains, while a nylon brush works best for applying latex based stains. Always brush in the direction of the grain, and wipe the excess off with a clean rag.
References
Resources
Tips
For best results, use a scrap piece of plywood as a test bed fist. Condition, seal and stain it to give you the best idea of what to expect, before staining the plywood cabinets.
Writer Bio
Dale Yalanovsky has been writing professionally since 1978. He has been published in "Woman's Day," "New Home Journal" and on many do-it-yourself websites. He specializes in do-it-yourself projects, household and auto maintenance and property management. Yalanovsky also writes a bimonthly column that provides home improvement advice.
Photo Credits
Jupiterimages/Photos.com/Getty Images
More Articles