How to Refinish an Old Entertainment Center
An entertainment center is a major piece of furniture, no matter how simple its design may be. If the finish is out-of-date or worn out, it can affect the look of your whole room. Stripping the unit and repainting or refinishing it may be just what you need to give your living or family room a whole new look.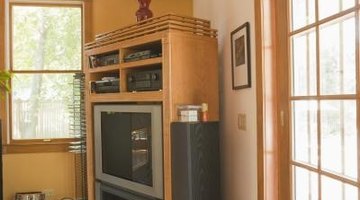 Strip the entertainment center by painting on a coating of wood stripper. Make sure to work outdoors or in a well-ventilated room. Allow the stripper to sit on the finish until it loses its gloss (this takes about 10 to 15 minutes). Use a scraper to remove the stripper and finish. For curves around knobs or on legs, if your entertainment center has them, use a hemp rope to work the finish and stripper off the wood. Use steel wool and a toothbrush to remove finish and stripper from crevices and carving. Work slowly and be careful not to scrape away the wood with the finish. Use more stripper if necessary.

Use fine steel wool to rub denatured alcohol into the stripped wood. This will remove any old shellac. Wipe the surface of the entertainment center with a soft cloth, and then add a coating of de-waxed shellac to protect the wood. Wrap a wadded-up cotton rag in cheesecloth and dab on a layer of shellac.

Finish the entertainment center as desired, with paint or a wood stain. For the best result, apply two or three thin coats of paint or stain, rather than one thick coat. Use a small brush to get into crevices and carvings. Allow the finish to dry between coats.

Paint a thin layer of varnish over the finished entertainment center to protect the paint or stain and add a gloss. Once the varnish dries, replace the doors, shelves and any hardware. If desired, replace the hardware to update the look of your piece.
References
Writer Bio
Shaunta Alburger has been a professional writer for 15 years. She's worked on staff at both major Las Vegas newspapers, as well as a rural Nevada weekly. Her first novel was published in 2014.
Photo Credits
Thinkstock Images/Comstock/Getty Images
More Articles