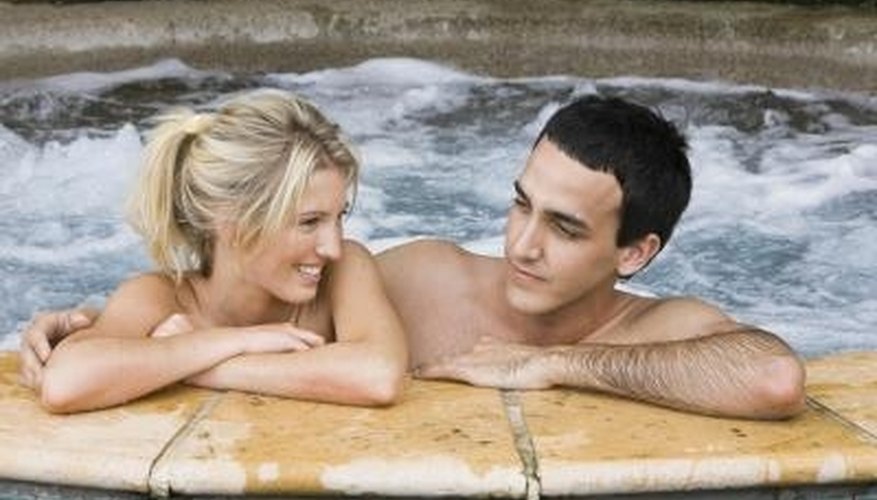 Perhaps you keep a pan of water or a small rug on which to wipe your feet before getting into the tub, yet still it appears. If your hot tub is close to your roof, rain may wash particles off the roof tile into the water. No matter how it gets there, knowing how to quickly get rid of it makes maintenance a breeze.
Clean the water line with a face cloth. Using a more abrasive cloth or sponge may damage or dull the finish, so choose the softest cloth available. A cloth diaper is perfect if you have access to one.
Run the hot tub's jets for 10 to 15 minutes to loosen any particles in the air lines. Shut off the jets, then wait for at least an hour before continuing to let any dirt particles fall to the bottom of the tub.
Ease into the hot tub, disturbing the water as little as possible.
Squeeze the bulb on the turkey baster to release all air, then aim the tip toward any debris on the bottom of the hot tub. Release the bulb and the particles will flow into it. Flip it quickly so that the tip is facing up and bring it up out of the water. Aim it into the grass (or a bucket) and press the bulb to release the dirt particles and water. Repeat to remove all the visible particles.
Use a submersible pump to remove water from the hot tub if there is a large amount of dirt particles. Replace the water to the proper level after if you use this method.
Things You Will Need

Face cloth or cloth diaper
Turkey baster
Bucket (optional)
Submersible pump
Tips
While there are hot-tub vacuums, a turkey baster is less expensive and smaller, allowing you to keep it handy.

A clean filter is most effective at keeping debris from the bottom of your tub; follow the manufacturer's directions on cleaning or replacing it.