Why Are Joists Visible Through a Smooth Ceiling?
When installed professionally, drywall panels form a smooth ceiling, leaving no indication of the location of ceiling joists. Clearly visible lines on a ceiling could be due to faulty workmanship or substandard materials. The lines probably aren't the actual joists, which are usually 16 or 24 inches apart. They are probably the joints where the drywall panels meet on specific joists.
Seam Gaps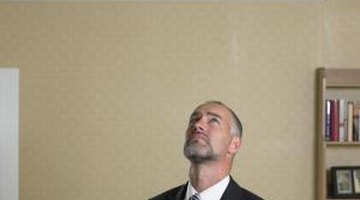 Drywall ceiling panels must butt tightly together for the best quality finish. If a drywall contractor leaves gaps between the panels, the joint compound used to fill the panels can shrink into the gaps, leaving visible lines in the ceiling. The wider gaps are between the panels, the more likely they will be seen.
Taping Problems
Taping drywall joints is a craft, and it's tougher to do correctly overhead than on a wall. Because of that fact, most new-home builders and remodeling contractors opt for ceiling texture instead of trying to tape drywall joints smoothly. The correct taping method involves applying multiple thin coats of joint compound and letting each coat dry before sanding and applying the next coat. If a drywall contractor does not follow that technique, which reduces shrinkage problems, then the joints between drywall panels probably will be visible.
Substandard Panels
Drywall panels that are 1/2 inch thick are the standard material used for ceiling joists spaced 16 inches apart. Drywall panels that are 5/8 inch thick are the standard material for joists spaced 24 inches apart. If a contractor installs thinner drywall panels, then the panels may sag between the joists. When that occurs, the nailing pattern over the joists may be seen, with the pattern creating visible lines on the ceiling in the same locations as the joists.
Remedies
Applying ceiling texture is the quickest and probably the most cost-efficient remedy to obscure the lines. If the problem is due to wide seams between the panels or poor taping, then adding texture is the best option. If the joists are apparent due to substandard drywall panels, however, you can remedy the problem by installing new drywall panels over the old ones, taping them and then applying ceiling texture.
References
Writer Bio
Glenda Taylor is a contractor and a full-time writer specializing in construction writing. She also enjoys writing business and finance, food and drink and pet-related articles. Her education includes marketing and a bachelor's degree in journalism from the University of Kansas.
Photo Credits
Michael Blann/Digital Vision/Getty Images
More Articles