The Standard Size of Formica Kitchen Countertops
Homeowners who want to revamp their kitchen without shelling out the big bucks often turn to Formica and other brands of laminate countertops. Formica countertops offer an alternative to granite, quartz and Corian, which are more expensive and not as easy to install. Formica countertops come in a variety of shapes and sizes, but for most kitchens, a standard size will work and prove to be the cheapest route.
Standard Size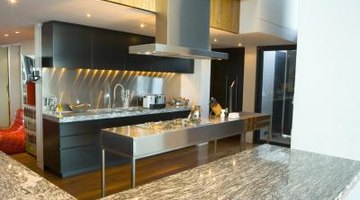 The standard depth for a Formica countertop is 25 1/4 inches. These countertops are designed to fit standard cabinets, which are 24 1/4 inches deep. The 25 1/4 inch countertops typically include a nosing on the outer edge that gives the counters a slightly more decorative appeal. According to the Family Handyman website, cabinets that vary more than 1/4 inch from the standard 24 1/4 size require a custom-sized countertop.
Preparation
Preparing to put in laminate countertops requires that you ensure that your walls are straight and your corners are square. The typical Formica counter is designed so that you can shave off up to 1/4 inch from the edges, if necessary, to accommodate any problems with the walls or corners. Beyond that, it will be necessary to order countertops that are deeper than normal. This will allow you to shave off what you do not need to account for any irregularities.
Composition
Formica countertops vary from natural stone or synthetic countertops, like Corian, in their basic composition. The typical Formica countertop consists of a 3/4-inch piece of plywood or particle board substrate, covered by a thin sheet of decorative laminate that is generally composed of some type of plastic material.
Installation
Installation of Formica counters is fairly basic and simple compared with other types of countertops. Once the old counter has been removed and the new countertop has been prepared for the existing space, you can simply place it so that it rests upon the top edges of the existing counters. Drive wood screws up through the cabinet base to secure the counter in place. You can also use wood glue before you situate the countertop for some additional adhesion.
References
Writer Bio
Jared Lewis is a professor of history, philosophy and the humanities. He has taught various courses in these fields since 2001. A former licensed financial adviser, he now works as a writer and has published numerous articles on education and business. He holds a bachelor's degree in history, a master's degree in theology and has completed doctoral work in American history.
Photo Credits
Goodshoot/Goodshoot/Getty Images
More Articles