Garlic Spray for Fleas
Fleas are pesky creatures that feed on pet blood, stay on their body and infest the home, garden, furniture and fabrics. There are several chemical sprays, juices and tablets that can help get rid of fleas, but some of the chemicals contained in them can be harmful for your pet, children and environment. One of the natural ways to get rid of fleas is a garlic spray, which is free from any kind of chemicals and thus safe for the pet and family.
How it Works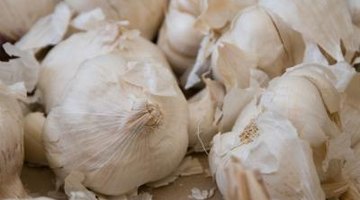 Garlic has anti-bacterial and antiseptic properties that are not favorable for fleas. Just like humans, fleas also do not like the smell of garlic. Once sprayed on the pet, fleas on the pet skin will go away.
Making Spray
Use the garlic spray not only for the pet's fur but also in parts of the house that have been infested with fleas, including the carpets and furniture. Dice some garlic and keep it in hot water for a few minutes. Strain the extract and pour it in a spray bottle. Give the pet a bath and spray the solution on it, on the furniture, carpets and pets bedding and clothing. The garlic smell will linger on and if you do not want that, add some more hot water to the solution.
Advantages
One of the major advantages of using garlic spray is that it is 100 percent natural and does not involve usage of any chemicals or poisons. When chemical-based sprays are used on the pet's body, it may remove the fleas, but might also cause other skin or health related issues. Another advantage of using the garlic spray is that it is environmentally friendly as no harsh chemicals are used in it. Most chemical-based sprays or treatment methods are quite expensive but garlic sprays are cost-effective and easily available.
Effects
Once sprayed on the flea-infested pet, the hold of fleas will become weaker and they will want to go away. After spraying garlic spray on the pet, comb its fur with a flea comb and you are sure to see many fleas dropping down. Repeating this procedure for a few days is sure to free your pet from all fleas and itchiness. Moreover, as the pet will stop scratching and biting itself, it will be free from bruises, bite marks and bald patches.
References
Resources
Writer Bio
Tom Don has been a freelance writer and editor since 2005. He covers topics such as small business, health and fitness for various online publications. Don holds a Bachelor of Science in business administration and Master of Science in website administration from Johns Hopkins University.
Photo Credits
Jupiterimages/Photos.com/Getty Images
More Articles